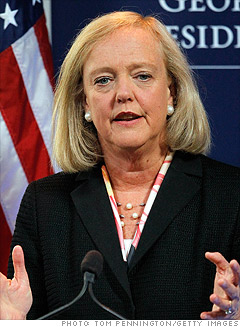 Company: Hewlett-Packard
Bonus: Up to $6 million
Stock and options: Option to buy 1.9 million shares
HP's new CEO will do quite well if the company improves, but the only thing she is guaranteed is $1.
Actually, if she's fired before the end of next year, she'll take home $1.50, since her severance is 1.5 times her annual salary.
A self-made billionaire thanks to her years running eBay, Whitman doesn't need the money. But she could add to her stockpile if she can steer HP in the right direction: Her cash bonus target is $2.4 million, with the possibility of as much as $6 million.
Whitman also has an option to spend up to $45 million buying discounted HP stock, but her options only become valuable if she stays on the job for several years and HP's stock price rises during that period.