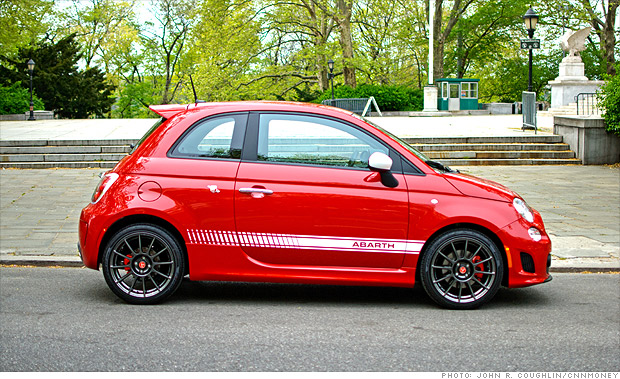 From the outside, the Fiat 500 Abarth looks pretty much like a Fiat 500 but for a few notable differences. First, there's that big rear wing. Then, there are those Abarth 16-inch wheels wrapped in high-performance Pirelli tires.
Lastly -- and you might not even notice -- there's the extra-long nose, stretched out a couple inches to hold the tubing for the turbocharger.
One thing you don't see on the outside: the word Fiat. It was fun watching onlookers trying to figure out what kind of car this was then wondering how to pronounce "Abarth." (Correct answer: Any way you want, except "Ar-bath," as one guy said.)
The turbo boosts the Abarth's 1.4-liter four-cylinder engine which has up to 160 horsepower, as opposed to the 101 horsepower you get in the regular Fiat 500. Altogether, that's way more than enough to shoot this little thing along like a bottle rocket.