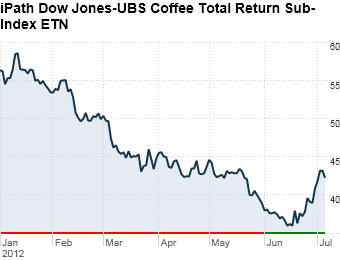 Ticker: JO
Year-to-date return: -25.28%
Market capitalization: $27 million
Expense ratio : 0.75%
Coffee prices, along with many other commodities, have taken a hit this year as global economic growth, particularly in China and the United States, shows signs of slowing.
In fact, coffee prices have been among the worst performing of the bunch, with prices down nearly 20% this year.
The Dow Jones-UBS Coffee exchange traded note, or ETN, buys futures contracts, which are typically higher priced, and sells them at the end of the month, based on the spot, or daily, coffee price. With coffee prices underperforming the broader commodity market, that's been a losing proposition.
But there's still hope for a turnaround. Excessive rains in Brazil, the world's largest coffee producer, could hamper supply, and push coffee prices back up.