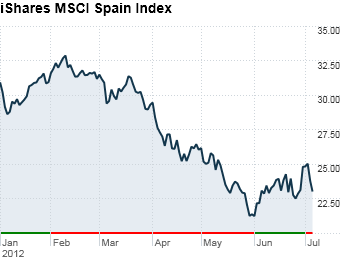 Ticker: EWP
Year-to-date return: -21.75%
Market capitalization: $156 million
Expense ratio : 0.52%
For Spanish banks, which comprise roughly 40% of this ETF, 2012 looks a lot like 2008 did for U.S. banks...or maybe even worse.
Shares of Banco Santader (SAN), the ETF's largest single stock holding, are down roughly 38% from January. One of the ETF's other major holdings, Telefonica (TEF), Spain's major phone and Internet company, has taken a hit along with the broader Spanish economy. Telefonica's shares are down 29% so far this year.
The forecasts for Spain's troubled economy aren't promising, as the eurozone's fourth-largest economy struggles under a weighty debt burden and tough austerity measures. An unemployment rate of roughly 25% isn't helping matters..