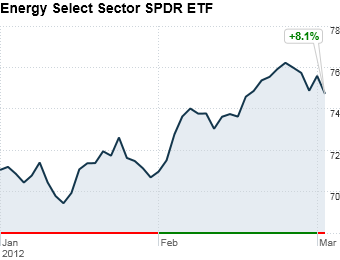 With oil prices well above $100 a barrel, investing in big oil is an obvious choice. Higher crude prices help major oil companies deliver healthier profits, and in turn, drive up their stocks.
"The major integrated oil companies are the safest way to play energy markets," said Bob Carey, chief investment officer at First Trust Advisors. "They are involved in every aspect of oil production, delivery and exploration, and have proven their ability to consistently grow earnings and dividends over time."
Rather than investing in individual stocks, experts recommend broad exposure through the Energy Select Sector SPDR ETF (XLE), which rose more than 6% last month. The fund's top holdings are industry leaders like Exxon Mobil (XOM), Chevron (CVX) and ConocoPhillips (COP).
While major oil companies are typically a safe bet, they could be in trouble if Iran follows through on its threat to shut down access to the Strait of Hormuz, warned Colin Moore, chief investment officer at Columbia Management.
"If something traumatic in the Middle East were to cause an enormous spike in commodity prices, shares of oil and gas companies would fall because the worries about how something like that would impact the global economy would outweigh the benefits," said Moore, who also manages the Columbia Energy & Natural Resources fund (CERIX).