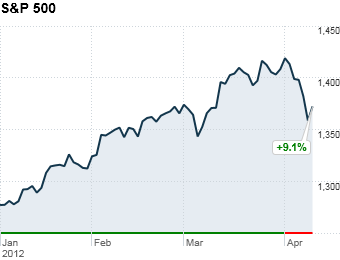 Following the best first-quarter returns in 14 years, stocks have had a less than stellar start to April. All three major indexes are already down more than 3% this month.
But rumblings of a modest correction have been growing for some time now, and analysts say a pullback would be healthy, given the sharp run-up the market enjoyed at the start of the year.
Since the bull market began in early 2009, stocks have experienced several market corrections between 5% and 7% without any serious worsening of fundamentals, noted Bob Doll, chief equity strategist at BlackRock.
He said a continued contraction should be viewed as a "consolidation of prior gains rather than the start of some sort of large downturn." And it could also provide a potential buying opportunity, he added.