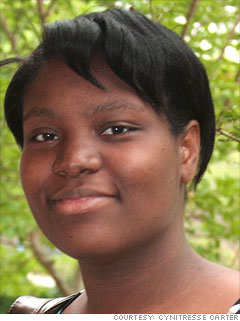 Name: Cynitresse S. Carter
Major: Accounting
College: Alcorn State University, Miss.
During the fall of 2010, I set out to find an internship program that not only provided the on-the-job experience, but also personal development.
I applied for a program called Gateway to Leadership. This program is a collaborative effort between the Money Management Institute and the United Negro College Fund to give African-Americans an opportunity to intern with a financial firm.
After my summer 2011 internship with Edward Jones Investments, I knew in order to get a place before I graduated I need to start my job search in the fall. I interviewed with companies like Cambridge Associates, Lord Abbett, even making it to the last round for the J.P. Morgan corporate analyst development program.
I received an offer from Morgan Stanley for its wealth management branch analyst program that starts in July. One woman I interviewed with said that a lot of people interviewing couldn't say why they wanted to work for the company. She said you should always research the company you want to work for. I went on their website and pulled up their annual reports for at least two years. I read some headlines and items about what the company is about.
After five interviews, I was chosen as one of 10 to participate.
I can say that one of the main reasons I made it was because I knew the company and I was able to describe who I am as a person.