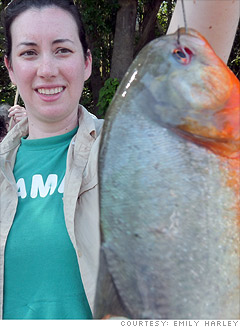 Emily Harley
Marketing and media relations manager
Helena, Ala.
We used to go on long-haul vacations but the last time I took one was three years ago. My mom and I went to the Amazon and went piranha fishing.
Now I do not take all of my vacation time because there is no back-up for my job. I do all of our copywriting, social media and public relations, and obviously the work doesn't stop so that I can take a few days off.
Plus, I think I must have an inflated sense of my own importance. Sometimes I think, "nothing in marketing or the website would get done if I take time off."
I assumed multiple roles after lay-offs. After the economic downturn, I did what so many others did and diversified my job responsibilities. And in a small company that means a back-log of work if I take vacation days.
I can't afford to do anything when I do take time off. While he is gainfully employed now, my husband was without work when his company closed several years ago.
It just wasn't worth the trade-off to let work back up and cause myself stress, if the only thing I could do with time off was clean house!