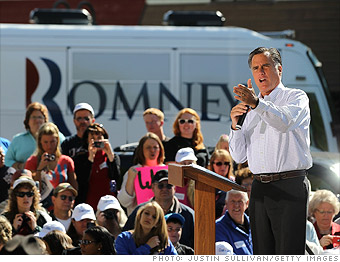 Unemployment rate: 8.2%
Electoral votes: 9
Democrats held their 2008 convention in Denver, Colorado, and the state delivered a 54% - 46% victory for President Barack Obama.
But since then, the state's economy has mounted a slow recovery, adding a steady -- if not spectacular -- number of jobs.
In June, the unemployment in Colorado ticked up to 8.2% after several months below 8%, a jump due in part to workers returning to the labor force. The rate has fallen from a peak of 9.0% in late 2010.
But there are still several reasons to think the state's economy will improve between now and Election Day. Colorado is a major player in the country's oil and gas boom, particularly in the northeast part of the state.
And manufacturing, the state's fourth largest industry, appears to be on the way back, adding jobs over the previous two years after a decade of decline. The state's professional, scientific and technical services industry, long a bright spot, continues to grow.