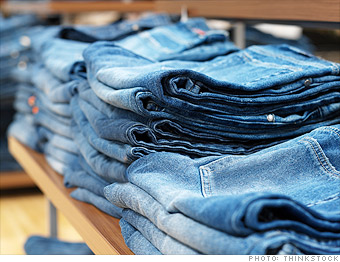 Apparel prices have also been on the rise, although with such steep sales around the holidays it's been hard to tell.
Going forward, retailers will continue to try and pass along higher transportation and raw material costs, which means you'll pay more for your clothes -- when they aren't on sale.
"Look for the average apparel product to be raised about 8% to 10%," said Marshal Cohen, chief industry analyst at the market research firm NPD Group.
The biggest hikes will be on cotton clothing, like underwear, socks and jeans, he said. As farmers favored the higher returns from soybeans and corn, last year's cotton shortfall sent prices through the roof. While that might mean paying just a dollar more on $20 jeans it could translate into a $20 hike on popular premium denim that typically costs upwards of $150 a pair.
Of course, that only applies to those that pay retail. Savvy shoppers who take advantage of all the discounts and promotions retailers are offering these days will be able to sidestep this year's markups, Cohen said. That way, "it will look like a price increase but it won't feel like one," he said.