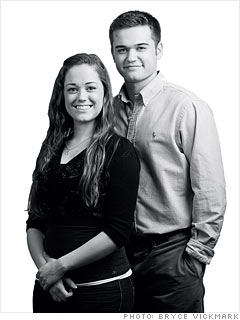 Brittany and Robbie Bergquist, 21 and 20 On a mission since:
2004
Day job:
College students
Achievement:
Making it easier for service people overseas to communicate with their families back home -- without going into debt.
Whey they're heroes:
At ages 12 and 13, after hearing about a soldier in Iraq who owed $8,000 for calls home, this sibling duo from Massachusetts emptied piggy banks and hit up friends to make a $21 donation. That effort snowballed into Cell Phones for Soldiers, a nonprofit that recycles phones to buy prepaid calling cards -- over 150 million minutes' worth of talk so far -- for soldiers overseas.
Quote:
"We've raised $7 million," says Robbie. "But that first $21 was still the hardest."