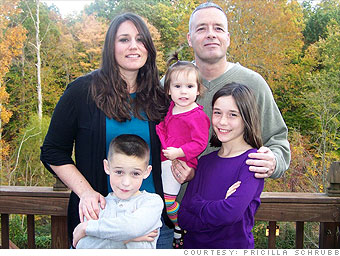 Name: Pricilla Schrubb
Location: Quantico, Va.
Number of times they've moved: 5
I was 22 when we were married, I had just finished a two-year degree. Now, we've been married for about 12 years and we have three kids. Not having family support is one of those big things. We have to fly to see our parents and it's very expensive and it takes a lot of planning and preparation.
My in-laws recently became unable to travel so we're making the trip to Texas this summer -- we haven't seen them in five years and that's a long time for our kids to go without seeing their grandparents. But we won't be able to visit my parents this year. When a trip costs $3,000 you can't make two of those a year, you can't see both sides.
That's been the biggest challenge financially for us, but if you want to achieve other financial goals you have to put those things aside.