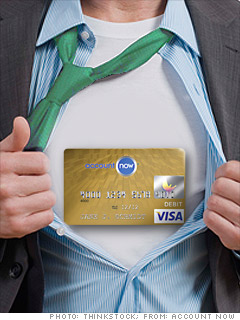 Another prepaid card option for consumers who don't qualify for a traditional credit card and aren't seeking to rebuild their credit is the Account Now Prepaid MasterCard.
Approval is guaranteed upon successful ID verification, and there is no annual fee or activation fee -- making this card one of the top prepaid card picks of Bill Hardekopf, CEO of LowCards.com.
Among the perks, cardholders can receive a $25 bonus after making a direct deposit of at least $500 for two or more months in a row. Load at least $2,500 or more on your card per month, and there is no monthly fee. Fail to do so though, and you'll need to pay a fee of $9.95 a month.
The card also comes with a free online bill pay service, in addition to direct deposit. Users can even deposit money into their account at major retail chains like Walmart, CVS, 7-Eleven and Walgreens.
AccountNow advertises its card as a way for consumers to develop smart spending habits and learn their limits without going into debt, since they aren't able to spend more than they deposit into your account.