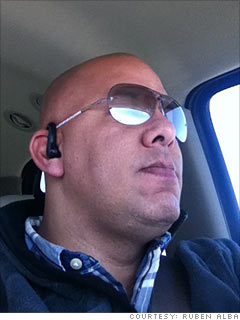 Age: 39
Occupation: Partner, Petro River Oil
First boom: Farmington, N.M.
Currently working: Eastern Kan.
I started in 1997 working for Halliburton in the San Juan Basin in New Mexico. I came there right out of college and was one of two engineers Halliburton hired.
My wife and I had a real typical oilfield wedding. She spent the summer before her last year of college with me in my trailer in New Mexico, and I proposed before she left. But then I was so busy, I said to her, `I don't know if we're gonna have time to get married.' She suggested doing a quick one in Vegas, so that's what we did -- then she went back south to teach and I went back to work.
The key thing for an oil wife to understand is that we want to go forth and conquer and be adventurous -- and the oil fields accomplish that. We get a little taste of that and you can't stop -- it's like a dog that's off his leash -- you can't get him back. And he'll kinda dwindle away if you make him stop.
I transferred to Denver and ran the operations for the eastern Rockies, and my family has had a base in Denver ever since. We have two boys, and I don't ask my family to chase me around. It's a lifestyle we've all gotten used to. I've never been a 9-to-5 dad. I've always been doing boomtown gigs.
After [Denver], I went to Wyoming for a while. Then [Halliburton] launched this little project in the Bakken in North Dakota, where it started drilling laterally. When I moved to Williston [in North Dakota], it was a sleepy little town. People were starting to talk about growth there, but the growth wasn't happening yet. People didn't anticipate how big it was gonna get.
Once the Bakken got booming, I moved on to launch a new fracturing company. Then when I heard about everything going on in Kansas -- which is just about to go crazy -- [I formed] a new company, Petro River Oil, and bought 70,000 acres of undervalued mineral rights to drill.
It's risky to be first, but it's even more risky to come in after everything is overvalued. There's always that risk in the oil business. But if they open the play and you don't play, you're going to be sitting on the sidelines and watching. I want to be in there building things. Once I've built something, I find the next little pocket of the world -- I move on to the next boom.