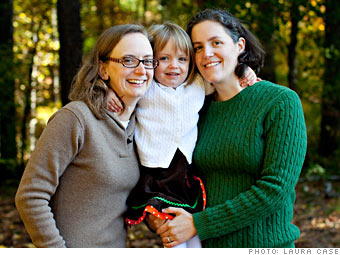 Name : Daire and Tara Roebuck
Age: 33; 34
Hometown: Raleigh, N.C.
Daire and Tara have been together since 2002, but since they live in North Carolina, they aren't legally allowed to get married.
In 2009, Tara gave birth to a daughter, Micah, who she and Daire are raising together. But because Daire isn't recognized by the federal government or state as Tara's spouse, she isn't able to legally adopt Micah.
If the two were to separate, Daire would have no legal standing to sue for custody or visitation. And if Tara passes away, Daire would have to fight for custody in order to continue raising Micah.
To attain those rights for Daire, the couple has hired separate attorneys to draft a parenting agreement. Doing so has already cost them at least $1,000 in legal fees, and they estimate that they will spend at least another $2,000 by the time they finalize the agreement.
"That's the sacrifice we have to make so that we can protect Daire's rights, my right's and Micah's," said Tara. "That money would instead be in a 529 [college saving plan] earning interest for Micah's college education or in our respective retirement funds."
They are hoping that the expense will be worth it. Having the parenting agreement in place will mean that, in the event of a separation, Daire will provide child support and Tara will share joint legal and physical custody.
"We just want to make sure that Micah has two moms, and come what may, she will continue to have two moms," said Daire.