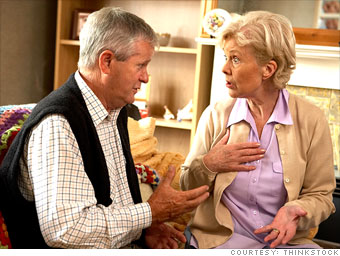 Question: How should I approach the subject of finances with a spouse who complains about having no input -- but then, when given a financial task, complains about having to do it?
--T.N., Tacoma
Advice from Money readers:
After 43 years of marriage, I've learned that you let it go. -- Robert M. Smith, Franklin, Tenn.
Tell your spouse that having a say in your financial well-being is like voting for President. If you don't participate, you have no right to complain about the results. -- Les Liimatainen, Esko, Minn.
Schedule a monthly meeting to share a glass of wine and review your budget, balance sheet, and goals with each other. -- Elizabeth George, Dallas
Treat your spouse like a business partner who has delegated financial management to you. Provide easy-to-understand reports about family finances, with clear choices and their consequences. -- Thor Anderson, St. Louis
That's life. Better to ask for input, even if your spouse complains, than be secretive. -- Jim Overby, Eden Prairie, Minn.
The expert take:
Having input might mean that your spouse just wants more information, not necessarily hands-on work. He or she might feel vulnerable or ignorant. Maybe your partner doesn't feel competent or doesn't have enough time or interest to do a task.
Emotions can get heated around money, so try to approach the subject objectively. Ask your spouse, "What would you need to feel like you're involved?" -- Paula Levy, CPA and marriage and family therapist