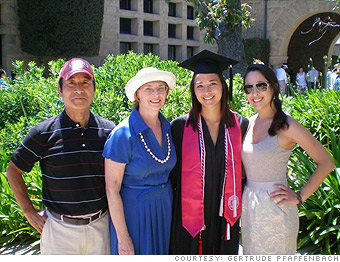 Gertrude Pfaffenbach, 64
Westchester, NY
My goal was always to combine law and science, so after earning my Ph.D in immunology and working a few years as a research scientist, I went to law school.
I took loans out for law school and then we had two children who were going to be entering college. We decided to let them go for their dreams. They both went to very prestigious colleges -- Stanford and University of Wisconsin.
We were very happy to help them pay for their education, but it did require us taking out some loans. Between three people, we took out about $120,000.
I'm working as an attorney and I like my job, but most people in this field have had to take salary cuts -- myself included. While we're not in bad shape financially, this means I can't pay down the student loans as fast as I would have liked. It may take us another 5 to 10 years.