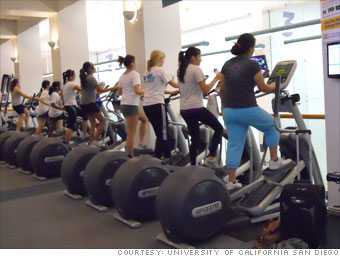 The more students sweat during their workouts, the smaller University of California San Diego's energy bill is.
This year, the university gym installed 10 elliptical machines that can generate power for the campus from the kinetic energy generated by pedaling.
A 30-minute workout produces about 50 watts of energy, enough to charge a cell phone six times or power a light bulb for more than two hours, the school says.
While the school said it's too early to estimate how much money it will save, the manufacturer projects savings of up to $500 per year if the 10 machines are used eight hours a day.
California State University Northridge, Boston University and Montana State University and other colleges have introduced similar elliptical machines in their fitness centers over the past year.