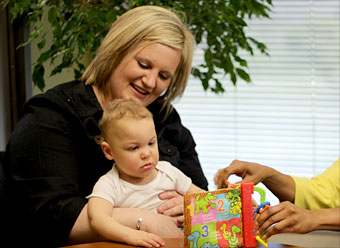 Name:
Haleigh Sutherland
Title:
Staffing Consultant
Years with the company:
1
The best way to know that you work for a place that offers a valuable product or service is to test it out firsthand. That's easier to do with, say, a retail company than a healthcare-staffing provider like CompHealth, a division of CHG Healthcare Services.
But when Haleigh Sutherland interviewed for a position at CHG, she found out that one of its employees had already played a pivotal role in her life. Karen WIlliams, a traveling nurse staffed by CHG had helped take care of her son Miles when he was born premature, at 23 weeks.
Sutherland remembers her interactions with Williams fondly. "She was just so open and accepting of my concerns, which is what you need in that situation. It's a lot of tears and heartache -- my son had just had surgery when I met her."
Her experience with Williams made Sutherland feel good about her job at CompHealth, where she helps place similar employees at hospitals strapped for staff.
CompHealth continues to contribute to Sutherland and her son Miles' life. "My son does have many doctor's appointments and follow-up clinics and surgeries, and there's just an understanding at CompHealth that I didn't get with any company before." Miles turned two years old on December 14.