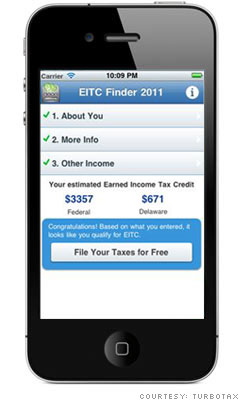 App: EITC Finder
Considering that we dole out an average of 29% of our income in taxes to Uncle Sam, you don't want to miss out on a single credit -- especially one that could result in a lucrative payout.
The Earned Income Tax Credit, which gives up to $5,700 to workers earning income under $49,000, is one of the most commonly overlooked credits. The IRS estimates that one in five qualified taxpayers overlook this credit, even though it could put a lot of extra money their pockets.
To help more taxpayers take advantage of this credit, tax software developer Intuit has created a free app for iPhones and Android smartphones that allows you to enter basic information about your tax situation -- like your income, filing status and number of dependents -- to determine whether you qualify for the credit. If you're eligible, the app calculates just how much money the EITC will bring you.