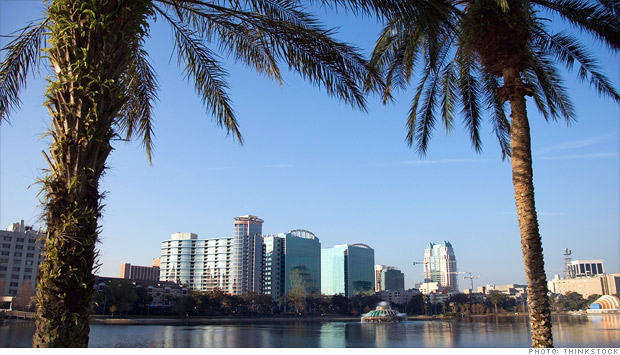 Median home price: $145,000
The world beats a path to this renowned tourist destination, which is helping to revive its once beaten down housing market.
"Everyone comes to Orlando: Canadians, Europeans and South Americans," said John Tuccillo, chief economist for the Florida Association of Realtors. Many of the buyers he sees these days are Brazilians, who buy properties and turn them into bed and breakfasts for other visiting Brazilians.
The inventory of homes for sale plunged 44% during the fourth quarter, according to Realtor.com. Those that were on the market took 37% less time to sell than they did a year earlier.
It's not just the tourist economy that's leading the housing revival. Job growth is being helped by the development of a major medical complex in the Lake Nona area southeast of Orlando. Among the construction projects, there will be a new VA hospital, a University of Central Florida College of Medicine, a medical research facility and a children's hospital.
"This is a big contributor to the economy," said Stephen Baker, president of the Orlando Region Association of Realtors. "We have a lot of clean industry, high-tech jobs coming up."
The stabilizing economy is expected to have a healthy impact on prices, which Fiserv projects will grow at an annualized rate of 4.5% over the next five years.