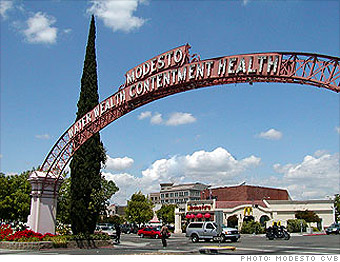 Median home price: $127,000
Median income: $62,000
Affordability score: 92.5%
Modesto would make the perfect poster child for California's housing bust.
Construction and home prices both boomed prior to the 2006 peak, as buyers sought homes that were cheaper than those on the coast, according to Daren Blomquist, a spokesman for RealtyTrac.
"People bought there even though they worked far away, closer to the coast," he said. "They were willing to make that commute to get lower prices."
Much to those buyers' dismay, once the bubble burst the prices kept falling. Home prices in Modesto have sunk 67% from their 2005 peak to the current median of $127,000, almost $40,000 below the national level.
Foreclosures still plague Modesto. The metro area had the second highest foreclosure rate in the nation during the first quarter of 2102, with foreclosure paperwork filed on one out of every 60 homes, according to Blomquist.
Meanwhile, the unemployment rate stood at a very high 17.4% in March, more than twice the national rate. Families with working members, however, can easily afford the beaten down home prices in the area.