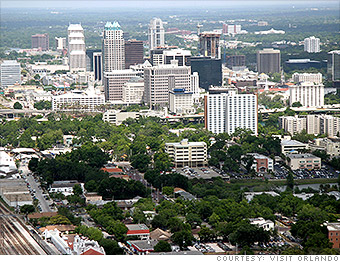 Median home price in 2012: $115,000
Projected home price in 2015: $150,491
Projected annual rent in 2015: $13,105
Landlords in Orlando have been seeing a nice return on investment recently. Rents in the metro area rose about 7% over the 12 months ended in March, according to Rent Jungle, as homeowners displaced by foreclosure sought rental properties.
For those looking to buy in this market, properties are pretty affordable: Home prices are down to levels not seen since 2000, according to data from NAHB.
With Orlando's economy on the mend, the risks for investors are fairly low, said Winzer. Orlando's unemployment rate has come into close alignment with the national average, standing at 8.2% in April.
Plus, the metro area population continues to expand, rising 1.5% in the 12 months ended July 1, 2011, sparking more demand for rental housing.