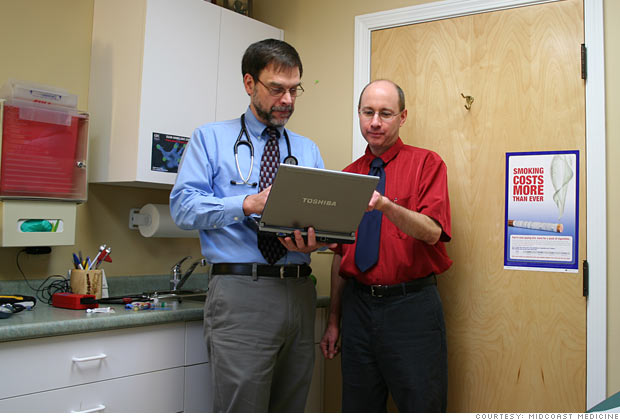 Dr. Brian Pierce, Chris McIntosh (Practice Manager)
Primary care
Rockport, Maine
Dr. Brian Pierce: Things have deteriorated in the nine years I have been in private practice. We have a credit line with a local bank. We've dipped into it several times in the last five years to make payroll and pay for business expenses.
Payment to doctors from a third party is not keeping pace with the cost of doing business. Most physicians are starting to retreat from private practice and look for hospital employment. I would much rather stay in private practice, but we are being squeezed by lower reimbursements. We're reaching a breaking point.
In our area in coastal Maine, we had maybe 15 to 20 private practices a decade ago. Today, most have been sold to hospitals because they just can't stay in business. We are constantly thinking about our future, about what we would do if our revenue and incomes continue to fall.
Chris McIntosh: Private practices are falling one by one in this area, hurt by reduced reimbursements from Medicare and private insurers while our expenses are drastically going up. We have eight providers and 12 other employees today.
We've done a few things to address costs. We've refinanced our building and we've borrowed $100,000 against the equity to keep going. We always max out our owners' credit cards. All employees are getting below standard level wages. One of our physicians doesn't take Medicare patients anymore. She charges a yearly fee for patients who can afford her and offers an annual exam and three visits. We're talking to other doctors about shifting to that model, too.
Unfortunately, this doctor will lose patients who can't afford her. It does create a double class kind of system. It's not the best solution by any means, but we have to explore solutions to keep going.