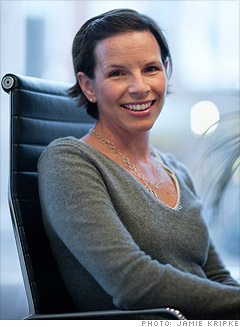 Owner: Sara Sutton Fell
Company: FlexJobs Corp.
Illustrating how you like to spend your lunch hour isn't the most advisable way to apply for a job, but it was enough to win over Sara Sutton Fell, CEO of FlexJobs, a telecommuting job site out of San Francisco.
An e-mail from job candidate Heather Maria Kubik told Fell to look at her video to see what she does during her lunch break. The e-mail also included a resume, cover letter, and a link to a home movie uploaded onto YouTube.
"It was a video of Heather and her husband doing a vertical wind tunnel performance," said Fell. "It was unique, jaw-dropping, and totally ballsy. And I loved it. I hired her on the spot for our video design project."
A sky-diving enthusiast, Kubik performs gravity-defying, upside-down spins and dance steps in an indoor vertical wind tunnel in the two-minute Apple iMovie. "This training has taught me persistence, patience, teamwork, and has proven true the old adage, 'If at first you don't succeed, try, try again,' " continued the e-mail.
Although her video-editing techniques earned her a contract with FlexJobs, Kubik said showcasing her off-beat skydiving skills is what truly paid off in the end. "When you're trying to reach out to a potential employer, you've got to give them something twice to look at," she said.