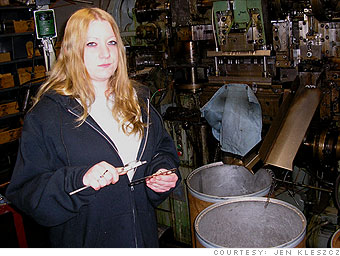 In high school I took up carpentry. I needed a job after I graduated. But it was hard to get one as a carpenter because I was so young, and a girl.
My uncle was a factory worker. He offered me a job at his factory. That's where I learned about machining. I stayed there for five years and got great on-the-job training about assembly work, setting up machines, mixing chemicals and reading blueprints.
Now I set up, maintain and operate machines at Newcomb Spring's plant in Connecticut. I've been here almost three years.
I want to keep doing manufacturing work forever. It's steady work. I have weekends off. I have health insurance and I don't have to deal with customers. The pay is better than retail jobs. In the long term, my pay will go up the more skilled I get.
Manufacturing work isn't for everyone. For other young people thinking about their first job, I'd say don't get into manufacturing if you don't like noise, or getting your hands dirty. Not all kinds of factory work are like that, but some of it is. I'm fine with it, and I could be making pretty decent money one day.