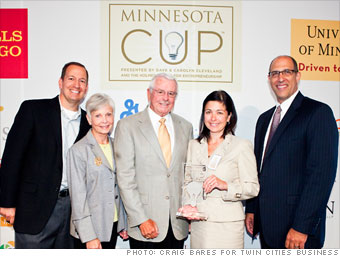 Prize: Up to $65,000
Last day to enter: May 18
This is the nation's largest statewide new venture competition for entrepreneurs, inventors and startups. Ideas can be submitted across six divisions: BioScience & Health IT; Clean Tech & Renewable Energy; General; High Tech; Social Entrepreneur and Student.
The Minneapolis-based competition seeks to develop breakthrough ideas across Minnesota. Entrants can gain resources, exposure and face time with mentors. They have the opportunity to win cash prizes.
The 2011 Minnesota Cup Grand Prize Winner, AUM Cardiovascular, used the $50,000 in seed capital for product development of a non-invasive, handheld device developed for the detection of coronary artery disease.
The company went on to raise $3.3 million to continue developing the device. The device will be tested against angiograms at clinical centers around the United States beginning in June. It is slated to launch to market October 2013.
Eligibility: Any Minnesota business less than five years old and generating less than $1 million in annual revenue is eligible to enter. Undergraduate or graduate students with fewer than five years' work experience who are currently enrolled full- or part-time at a Minnesota college or university also may enter.