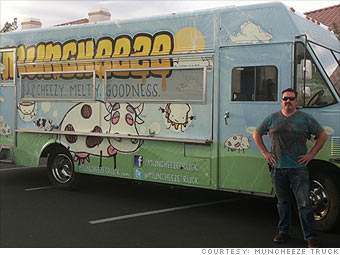 Company: Muncheeze Truck
Who: Todd Mill
Where: Minot, N.D.
For anyone with the munchies after a long day of work in the oilfields of North Dakota, there's a new quick fix in town: Todd Mill's Muncheeze Truck.
Mill, a 40-year old restaurant owner in Wenatchee, Wash., knew a handful of people who had moved to North Dakota to work in the oil boom. They always complained about the lack of restaurants.
So Mill decided to take his restaurant experience to North Dakota. He bought a 26-foot long food truck he found online. He invested in new brakes, shocks and tires and fixed up the kitchen. Then he hit the road for Minot.
Mill describes his offerings as "gourmet comfort food" -- everything from red bull smoothies to smoked salmon tacos with applewood smoked Alaskan Sockeye salmon.
"People like it because it tastes like the food they're used to getting at home," Mill said. "In Seattle you'd get it on every street corner, but out here in North Dakota they think we're a superhero, because there's nothing else like it."
The truck rolled into town about a month and a half ago and is open 12 to 14 hours a day -- serving breakfast, lunch, dinner and late-night snacks. Mill said the food has been a big hit with construction workers, many of whom have been lured to Minot by a local housing boom.
He only had 25 to 30 customers a day during his first couple days in business, but he's now serving about 150 to 200 a day. Lines are sometimes 100 people deep.