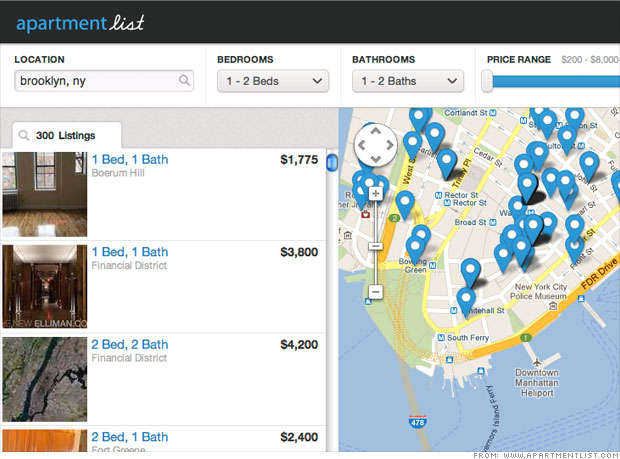 Startup: ApartmentList.com
The details: Based in San Francisco, launched September 2011
Their story: CEO John Kobs and co-founder Chris Herndon left their jobs in finance to create an apartment-recommendation engine lets users to hone in on a neighborhood, price, and type of apartment they're looking to rent. The site has partnered with services like Rent.com and Move.com to aggregate listings.
It's pretty basic so far: type in your location and you can start filtering the picks based on the price range, bedrooms and bathrooms, and features like on-site parking and pet-friendliness. It'll also show you top-rated restaurants around the area and popular neighborhoods that your friends frequently "check in" on through location services like Foursquare. The startup currently has 25 employees, 15 of whom focus on the technology behind the service.
A unique twist: ApartmentList has a social arm. If you're interested in a listing or neighborhood, you can connect through Facebook and share your list of prospects with friends who can give you their two cents. The crew calls it "digitizing what people do in the real world."