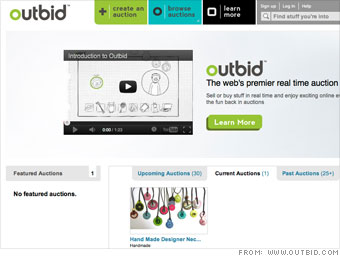 Headquarters: Oakland, Calif.
Launched: March 2012
Mission: Make auctions interactive and fun.
Traditional auctions are outdated, according to new startup Outbid. The Internet auctioning service allows people to auction off anything they'd like in real-time.
Here's how it works: Schedule your event and invite people to RSVP for what Outbid calls "a live interactive party that you control." There's a gamification element: As soon as a person bids, a countdown clock resets, allowing other users to keep bidding. The live element lets the auctioneer interact with their friends and people looking to buy items.
The idea stemmed from Copart CEO Jay Adair, whose automotive auctions company funded Outbid. Typical items up for auction include jewelry, art and sporting goods.