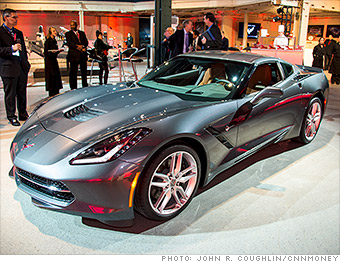 General Motors (GM) brought back the Stingray name on an all-new Corvette sports car the automaker unveiled Sunday night in Detroit. The Stingray name was introduced in 1963 and last used in 1976.
"Stingray is one of the hallowed names in automotive history," Ed Welburn, vice president of global design for GM said in a statement. "We knew we couldn't use the Stingray name unless the new car truly lived up to the legacy."
Watch: The new 2014 Corvette Stingray
The new 2014 Corvette will be the most powerful base Corvette ever with a 450 horsepower 6.2-liter V8, but GM boasts it will also be the most fuel-efficient 'Vette ever. It expects the 2014 model to exceed the 26 miles-per-gallon performance of current Vettes.