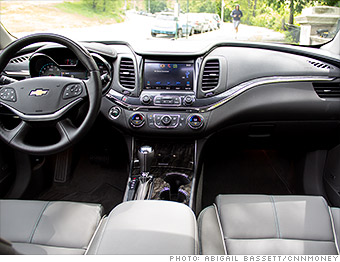 Besides being just plain roomier inside the Impala is also a good bit nicer looking. It's got the "twin cockpit" design now common on Chevrolets. It's supposed to remind us all of an early Corvette, but I'm betting that clever visual reference is lost on the almost everyone. No matter. It looks sharp.
Controls are well placed and easy to use. Borrowing an idea from Chrysler Group (I'm sure GM will send them a nice thank you card.) some controls, like stereo volume, are placed on the back side of the steering wheel, within easy reach of fingertips.
One small quibble with the Impala is a center touch screen that's slow to respond to the finger. When I reach out and touch an icon -- say to bring up the navigation screen -- it seems to pause and think for a moment before recognizing that I've asked for something.