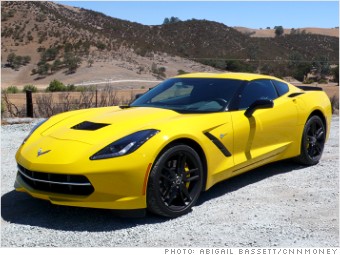 Watch: Inside the brand new Corvette Stingray
I really feel sorry for the Corvette. The poor car's been a really good, credible sports car for a long time, every bit the equal, in terms of driving performance and enjoyment, of cars costing tens of thousands of dollars more.
But it just hasn't gotten the respect. It's been seen as a much lesser alternative to a Porsche for those who just don't have the money to pony up for those Porsche prices. Probably that's because the Corvette costs so much less money, looks so much bigger and it carries its engine out front, like any regular car, not in back. Also, let's face it, it's a Chevy.
Now, with the 2014 Corvette Stingray, that disrespect just needs to stop. I had the chance to drive the new 'Vette on roads and highways not far from San Francisco and, while today's Corvette is not bad,this one's better. It feels even quicker, more nimble, more intuitive and it's lots more fun.