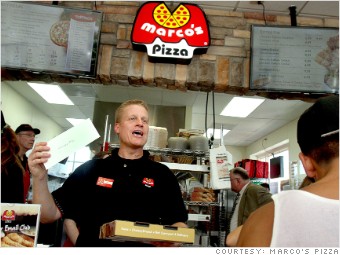 Pepperoni pies and Black Friday are a match made in heaven for Toledo, Ohio-based franchise Marco's Pizza.
In 2011, the chain found a unique way to capitalize on shoppers' rush to the malls. It offered big-box retailers, which typically open their stores at midnight the day after Thanksgiving, discounted pizza lunch packages for their employees on Black Friday.
That strategy proved to be a success, generating sales 10% to 40% above a typical day, said Jack Butorac, CEO of Marco's.
So the company is expanding the promotion this year.
"Large chains have approached us this year asking if we can offer our pizza specials for their workers on Thanksgiving Day and on Black Friday," he said. That's because many retailers, including Wal-Mart (WMT), Target (TGT), Sears (SHLD) and Toys R Us, are kicking off their Black Friday store deals earlier this year, starting late Thursday night.
Butorac is asking its restaurants to "aggressively look for opportunities to sell both to consumers and retailers for Black Friday" and is hopeful the chain will log even bigger Black Friday sales this year.