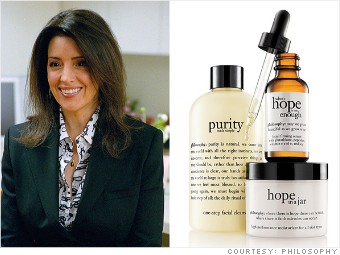 Big win

: Philosophy products have gotten 135 hours of air time on QVC in a year.

Website

: www.philosophy.com
With the first company she founded, Cristina Carlino developed a line of clinical skin care products that were sold to to plastic surgeons and dermatologists.
But Carlino wanted to create skin care products that women could buy in a store. This second collection, called Philosophy, launched at Barney's New York in 1996 and at Sephora in 1998.
A year later, Carlino scored a hit with Philosophy on QVC.
One product, called Hope in a Jar, has sold over 600,000 units on QVC, said Suzanne Pengelly, vice president of global sales for Philosophy on QVC. Private equity firm Carlyle Group bought Philosophy in 2007 and sold it to fragrance maker Coty in 2010.
Although Carlino no longer pitches her Philosophy products to a home shopping audience, Pengelly said she's still involved in developing a fragrance line with the company she founded.