Hiring outsider CEOs can be a big mistake - and is often a symptom of even bigger problems.
(Business 2.0 Magazine) -- This January, sneaker history repeated itself. Nike announced that it was replacing CEO William Perez, whom it had hired from S.C. Johnson & Son just 13 months earlier, with 27-year company veteran Mark Parker. It was the second time in the past decade that one of the industry's giants had succumbed to the siren call of the outsider. In 1999, Reebok CEO Carl Yankowski, a former Sony exec, resigned after just 14 months, handing the reins back to former chief Paul Fireman.
Shoemakers are hardly alone in making this mistake. Jeffrey Sonnenfeld, a senior associate dean at the Yale School of Management, says that though only 3 to 4 percent of Fortune 500 companies hired outsider CEOs in 1980, that number is close to 40 percent today. But there's no empirical evidence to suggest that looking outside is a winning formula. In fact, the opposite may be true: A 2004 Booz Allen Hamilton study of 2,500 major companies found that insider CEOs delivered shareholder returns 1.9 percentage points higher than outsiders did. "Boards think the savior must come from the outside," says Sonnenfeld. "We disparage the internal hire."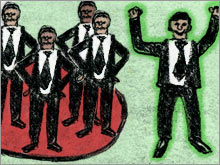 There can be legitimate reasons for choosing an outsider. New blood - such as Susan Lyne at Martha Stewart Living Omnimedia or Mark Hurd at Hewlett-Packard - can bring respectability after a scandal or a slump. But often the best-run companies simply don't trust the talent they have fostered, leaving outsiders to run aground because they don't have an inside knowledge of a firm's products, markets, and culture. Here are the succession-planning pitfalls that companies often encounter.
Recipe for disaster
Giving free rein to the sitting CEO. Putting succession planning in the hands of CEOs rather than corporate boards is a recipe for disaster, says corporate governance expert Nell Minow, editor and co-founder of the Corporate Library research firm in Portland, Maine. Yet it happens time and again, particularly in the case of executives with commanding personalities who exert a great deal of power over their boards. Consider Gateway founder Ted Waitt, who handpicked AT&T executive Jeff Weitzen to succeed him in 2000 and then stepped back into power a year later. Though Weitzen and Waitt had gotten along personally, Weitzen's way of doing business had clashed with the corporate culture. Unlike Waitt, who was known for his easygoing office demeanor, Weitzen put rigid policies in place throughout the organization, such as rules about when employees could go to lunch and what type of posters they could hang in their cubicles.
Another notorious example is former Walt Disney CEO Michael Eisner, who famously wooed and hired outsider Michael Ovitz as president, only to have him leave after just 15 months with $140 million in severance. "Certain failure is to let the CEO control the process," Minow says. "Part of the CEO compensation package should include incentives tied to grooming, attracting, and retaining top talent."
Cultivating succession
Failing to develop leaders. Companies that don't make cultivating talent a top priority can hobble the executive succession process. Rakesh Khurana, an associate professor at Harvard Business School, recently coauthored a study of 20 large companies and found that the ones that failed to groom talent from within neglected potential leaders and, in turn, didn't attract job seekers who saw opportunities to advance at competing firms.
Instead, talent-identification programs need to be woven into a company's overall strategy. John Tyson, CEO of the nation's largest meat processor, Tyson Foods, learned that lesson after taking the reins of the family business in 2000. At first Tyson tried ad hoc solutions, starting a mentoring program and sending promising managers on retreats. But because the leadership programs weren't evaluated in managers' performance reviews, Tyson executives had no incentive to invest in them. When it came time to fill positions, Tyson still didn't have enough qualified leaders.
The CEO's next move: making leadership planning a core responsibility of every manager. Now managers directly beneath Tyson submit regular reports on potential leaders working for them and allow these candidates to rotate through other divisions in the company, thus preventing division heads from hoarding talented employees. The Emerging Leaders Program now boasts 150 members. Tyson, Khurana says, found that leadership cultivation needed to be "embedded in the very fabric of the business." That philosophy stretches all the way to the top: Though John Tyson doesn't plan to retire anytime soon, the company already has an internal CEO succession plan in place.
Failure to plan
Doing nothing at all. Perhaps the most common mistake in CEO succession planning is the utter absence of a plan. Of the 20 companies Khurana and his coauthors studied, half had no succession plan in place for positions from vice president on up. "The problem is, succession planning is a deferrable proposition," says Jay Lorsch, another Harvard B-school professor, who has served on the boards of large companies, including Computer Associates, as they scrambled to find new CEOs. "It tends to get postponed because there are more pressing things to take care of."
That was the case when CEO Jill Barad left her post at toy giant Mattel in February 2000. Though her departure was hardly a surprise, "there was nobody there to take her place," says Roger Raber, president and CEO of the National Association of Corporate Directors. The job eventually went to former Kraft Foods chief executive Robert Eckert, who still holds the position. But the four months that Mattel was without a CEO took a toll on morale and earnings, says Sean McGowan, a toy industry analyst at Harris Nesbitt.
So what's the ideal succession-planning path? It might resemble the one taken by former Starbucks CEO Orin Smith, who found a middle ground in the outsider-insider debate. The first CEO after founder Howard Schultz, Smith assumed the top post in 2000 and said then that he planned to retire in 2005. Soon after, he chose Jim Donald, CEO of Pathmark grocery stores, to succeed him. Donald was an outsider, but Smith and Schultz hired him as president for the North American market in 2002 so he could be groomed as an insider. Last year Smith made good on his plans and stepped aside. It was such a smooth transition that it didn't attract much attention. And that was exactly the point.
Based in Southern California, Ann Marsh recently coauthored the autobiography of Kinko's founder Paul Orfalea.

To send a letter to the editor about this story,
click here
.