(Business 2.0 Magazine) -- When the smartest businesspeople on the planet - the Google guys, Steve Jobs, Bill Gates - all say the future of their companies is in video, who are we to argue? Google (Charts) is buying YouTube. Apple (Charts) is set to launch the iTV, which will wirelessly connect your TV to your Mac.
And Microsoft? It's about to make a video play that utterly dwarfs its rivals' moves: the upcoming rethink of Windows, known as Vista.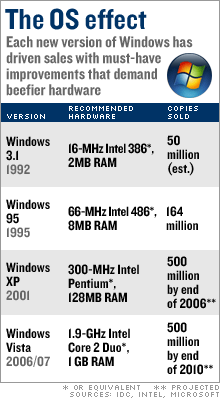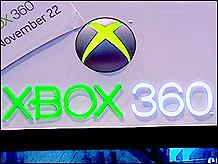 Microsoft figures out a way to download TV. CNN's Andy Serwer is 'Minding Your Business'.
Play video

The much delayed operating system launches on Nov. 30 for business users and in January for consumers. And like any new rev of the OS that still commands 90 percent of the PC market, Vista has the power to take a technology and make it mainstream.
Pumping cash into the global economy
Just as Windows 3.1 led to mass adoption of the graphical user interface and Windows 95 popularized the browser, Vista will slowly but surely transform the PC into a true multimedia device. The computer has already absorbed the telephone's capabilities; Vista's role is to throw in the TV too.
"Vista will make it easier for people to find, consume, and create high-definition content," says Phil McKinney, chief technology officer for Hewlett-Packard's PC business. "The user interface is media-oriented."
That means Vista automatically recognizes most digital cameras and camcorders and has sophisticated video-editing software built in. It also means better photo and video organization, TV recording (assuming your PC has a cable card or TV tuner), and vastly better graphics processing.
And that in turn will prod consumers to buy better hardware, fancy peripherals (especially speakers, screens, and HD-DVD drives), and more graphics-rich software and Web services.
For every $1 that Vista earns for Microsoft (Charts), IDC analyst Marcel Warmerdam says, it will pump a minimum of $12 into the global economy. So if the OS generates $9 billion in revenue for Redmond, that'll mean about $110 billion for other tech firms worldwide.
Gadgets to get a makeover
How does that break down? First and foremost, there's the effect Vista will have on hardware sales. "It will force upward pressure on the kinds of systems people will want to buy," says Gartner PC analyst Steve Kleynhans.
Consumers will drive sales of Vista in 2007, with corporate buyers likely holding back until 2008 to upgrade. Even so, IDC estimates that at least 90 million Vista-based PCs will ship in 2007 alone.
And Vista will enable new kinds of hardware too. For example, a Vista feature called Sideshow will make it possible for new laptops to ship with an extra screen on the lid, so users can check their calendar, contacts, and e-mail - and even play music - when the rest of the laptop is powered down. Since Sideshow requires its own flash memory, laptop makers could turn these screens into iPod-like removable media players as well.
Makers of tricked-out machines, such as VoodooPC with its large-screen laptops, terabyte drives, and multiple graphics processors, are already salivating. "Microsoft has put a lot of emphasis on making Vista the next big thing in entertainment," says Rahul Sood, Voodoo's co-founder and CEO. "To me this is a bigger launch than Windows 95 was."
Voodoo was snapped up by HP (Charts) in October, in plenty of time for the Vista launch. The luxury games-machine market represented by Voodoo (and Alienware, bought in May by Dell (Charts)) is growing by 20 percent a year, says PC analyst Rob Enderle of the Enderle Group, and will account for an estimated $850 million in sales in 2007.
Vista: Programming its own obit?
Then there's the $40 billion boom effect that Vista is likely to have on the software market, as everything from PC videogames to business apps begins to take advantage of Vista's improved graphics.
Take Santa Monica-based Accruent, which sells real estate project-management software for as much as $1 million a pop to big chains like McDonald's (Charts), Starbucks, and Target (Charts). Accruent currently uses 2-D graphs and charts. But thanks to a premium Vista feature called Aero - a visually rich, semitransparent interface - Accruent will soon let clients create stunning 3-D demographic charts overlaid on an aerial photograph of a city.
Accruent CEO Mark Friedman is convinced that Vista's videogame-like user interface will boost profits. "If the software is sexy," he says, "you are going to win. And the more you win by, the more you can charge."
Immersive online environments win too. Second Life, the 3-D virtual world where more than a million residents design their own dwellings and products, is today limited to consumers with high-end PCs. But any PC that can handle Vista will run Second Life like a dream.
"I hesitate to say 'God bless Vista,'" says Philip Rosedale, CEO of Second Life parent company Linden Lab, "but it requires a level of 3-D that is definitely going to help us out a lot."
And by transforming the PC into a more media-capable device, Vista could nudge the Web into becoming a full-fledged video-delivery network. Today, anyone can create his own online media network for the cost of a website and a videocamera. But with Vista, the chance of a consumer enjoying that video on the other end increases exponentially.
Ironically, by helping to smooth the road for millions online, Vista could hasten its own demise. "This is the last big OS release," Kleynhans says.
Why? Because desktop applications are migrating to the Web, so the emergence of a true browser-based "webtop" - one that can run on any OS and does most of its heavy lifting online - becomes feasible.
Perhaps absorbing the TV's capabilities will be the last thing Windows does before it, in turn, is absorbed by the Web.
_____________________________
Zune vs. iPod: The battle begins
Bill Gates, meet David Brent

To send a letter to the editor about this story,
click here
.