(Business 2.0 Magazine) -- The say knowledge is power. And for road warriors looking for an edge, the Internet is teeming with savvy tips on everything from flying first-class on the cheap to keeping fit without being cooped up in a musty hotel gym. Knowing where to find the best information among the thousands of travel sites that have sprouted up in recent years isn't easy, though. So we set out to give you the inside track, scouring the Web and talking to seasoned business travelers to identify the most useful sites. Happy bookmarking.
Real Times in Real Time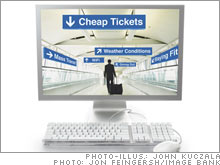 Come the day of your trip, no site can help you avoid the hassles of getting from point A to point B as thoroughly as FlightStats.com. The site has real-time arrival and departure information for almost every flight in the world, the latest security regulations, and up-to-the-minute weather conditions. It can send you text alerts if your flight is delayed, tell you which flights have the best on-time records, and even estimate how long you're likely to wait at the security checkpoint near your departure gate. Its mobile site is easily browsable. And best of all, it's free.
First Class for Less
If you're looking to fly in style - either by buying a first-class seat for a coach price or by identifying specific flights where the odds of landing upgrades are unusually high - head to ExpertFlyer.com. For $5 a month, the site offers the complete, up-to-date inventory of unsold seats for most major airlines, including unpublicized first-class tickets for the price of a last-minute coach fare. While ExpertFlyer can't book your seat, it does give you all the information you need to purchase a discounted ticket directly from the airline. That one extra step isn't so bad when you consider the savings: A recent ExpertFlyer search returned a first-class fare of $779 for a transcontinental flight on United while United.com was quoting $2,335 for the same seat.
Wi-Finding Made Easy
Need to check e-mail between meetings? These days you're never far from a Wi-Fi hotspot, but what if you don't feel like paying $15 for a connection you'll only use for 10 minutes? JiWire.com lets you search its worldwide database of 132,000 hotspots by city, zip code, price, or provider, so you can quickly find locations offering free access or those powered by networks to which you already belong. JiWire also sells software that adds extra security to your Web browsing and includes an offline version of its directory for when you're already on the road.
Dining Without Whining
Finding the perfect place to meet a client for lunch in a strange city can be a chore, and truth be told, today's plethora of user-driven Web 2.0 sites can be hard to navigate and often contain contradictory information. Not so the original user-generated restaurant review guide, Zagat.com. The site allows you to search eateries in 85 U.S. cities by criteria suited to your needs - spots with king-of-the-universe views, say, or quiet dining rooms good for talking turkey. Membership costs $25 a year; for a few dollars more, you can download Zagat to Go to your smartphone.
Transit Info by the Busload
Whether your goal is to slow your company's burn rate or the melting of the polar ice caps, public transit can often be the best choice for getting around town. HopStop.com has the complete rundown on subway, bus, and commuter rail lines in five of the nation's most important business centers: Boston, Chicago, New York, San Francisco, and Washington. The free site will tell you which train or bus to catch, how long it'll take, and the fare. HopStop, which is accessible by cell phone, plans to add five more major U.S. cities this year.
To Your Health
When it comes to staying fit, a cramped, outmoded hotel gym needn't be your only option. AthleticMindedTraveler.com lists useful workout options in nearly 60 U.S. and Canadian cities, with recommendations for fitness-oriented lodging as well as the best local health clubs, swimming pools, and running trails. The service, which costs $3 a month, also lists outdoor-gear emporiums, bike shops, natural-food stores, and the like, as well as restaurants that specialize in heart-healthy fare.
Mary Jane Irwin is an editorial intern at Business 2.0.

To send a letter to the editor about this story,
click here
.