1. Cell-Phone Giants Start Courting Coders
Right about now, the number of mobile-phone subscribers in the United States is closing in on 225 million - a number equal to 75 percent of the population. Why does that milestone matter? Because, according to a study by London-based mobile-OS maker Symbian, that level of users is a tipping point: Wireless carriers start to need software companies more than the other way around.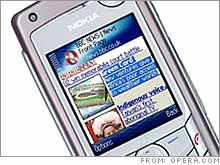 Competition increases, revenue from basic voice services drops, and providers need cool applications to differentiate themselves. "We've seen that play out in Japan and other regions," says Jerry Panagrossi, Symbian's vice president for U.S. operations. "There's a clear connection between market saturation and the uptake of services. It tends to occur at 75 percent."
That makes 2007 the year when Silicon Valley becomes the power player in the $118 billion U.S. cell-phone market, and when it starts to become as easy to grow a business on a handset as on a desktop. By the time you read this, you'll know if the Apple Phone is Steve Jobs's latest hot product or merely the latest in a long line of unfounded Mac rumors. But one way or another, the titans of tech stand poised to transform the mobile business - on their own terms. Case in point: Google (Charts). Not only is the company about to launch cell-phone search ads in the United States early this year after testing the service in more than 10 countries, including Germany and Japan, but CEO Eric Schmidt predicted late last year that we would soon see free cell phones, with the cost of a service plan subsidized entirely by ads. In December it was reported that the search giant had already begun making its move - discussing plans for a Google-branded phone in secret meetings with U.K. provider Orange. "The cell phone is becoming more of a utility device," says Deep Nishar, Google's director of product management. "Which means consumers will be more focused on services."
If we do start to see free cell phones, the business model may look a lot like that of SugarMama. The Virgin Mobile service provides 4 million users - mostly teenagers - with up to 75 minutes of free airtime a month if they watch ads and answer questions to prove they paid attention. Since its launch in May, SugarMama has been used more than 2 million times, and it's gaining about 1,000 new users a day, according to Virgin Mobile spokeswoman Jayne Wallace. It has also attracted advertisers such as Pepsi (Charts), Sony Pictures, and the U.S. Navy, which gives the small mobile operator a welcome stream of nonvoice revenue.
Indeed, the average voice revenue is dropping so fast - from $51 a month in 2000 to $43 a month last year - that advertising and premium data services may soon make up the bulk of wireless operators' revenues, further tipping the balance toward software companies. "Once people start using phones for more data, other companies are likely to have more of a chance to get their services out there," says Charlene Li, an analyst with Forrester Research. Let the golden age of cell-phone innovation begin.
Big Opportunity: The $16 billion wireless data market is set to double by 2008. These mobile apps are in demand: photo/video sharing; speech-to-text software; ad-funded games; social networks
For the latest news on mobile services, turn to Michal Lev-Ram's blog, Third Screen.
If you're a would-be startup founder with a killer idea but no cash, you might be in luck: Landing seed funding is about to get a lot easier. In February, Charles River Ventures will dish out a batch of $250,000 loans from its new QuickStart Fund (first up: a company called Mobeus, which turns speech into mobile text messages) and dig through 3,000 loan application forms. The investment is unusually small, but even stranger is the fact that few strings are attached - you don't have to give up a percentage of your company on the spot. All that the VCs require is the right to be an investor in your Series A round of funding, if you get that far. "Great returns come from companies that are hard to recognize at the seed stage," partner George Zachary says. "If we can get the right to invest in lots of these promising companies, we'll find them."
QuickStart is a prime example of how VCs are rethinking their business model. Tenfold and greater returns on Internet investments - think Google and Amazon.com (Charts) - are getting harder to find in an era of cheap software tools and free distribution. Take Del.icio.us, which founder Joshua Schachter sold to Yahoo (Charts) for about $20 million but which needed a mere $1.3 million in funding from Union Square Ventures and First Round Capital. "Union Square was very unhappy," says Howard Morgan, a partner at First Round Capital. "Here was a company you couldn't put more money into."
VCs that stay in the tech startup game are spreading their bets. Bicoastal VC firm Y Combinator is investing up to $20,000 in a dozen startups every six months. "Really, it's just living expenses," says founder Paul Graham. "We want these people to be able to just focus on coding, on building an idea into a company. So far it's working for us."
Minimum Bets: These VC firms plan to make more by giving less.
Company/Loan Size
Charles River Ventures $250,000
First Round Capital $100,000 and up
Y Combinator $15,000-$20,000
3. Wind Power, the Home Edition
Solar startups are so 2006. This year the cutting edge of alternative energy will be selling consumers on a clean technology previously used only at an industrial level: wind power. A dozen U.S. companies are set to offer turbines that can be placed in users' yards to cut their energy bills.
That's good news for Andy Kruse, founder of Southwest Windpower, based in Flagstaff, Ariz. Kruse raised $10 million in financing and teamed up with scientists at the National Renewable Energy Lab to create the Skystream 3.7, a sleek 33-foot turbine with 6-foot blades that can work at wind speeds as low as 9 mph (and provide as much as 80 percent of the average household's electricity). Skystreams cost up to $13,000 a pop, but Kruse shipped 150 of them during the first two months of production. "Everybody in the world has just woken up" to wind power, Kruse says, projecting global revenue of $24 million for 2007. "We had to turn down countless investors."
Right now, startups like Kruse's are targeting wealthy consumers who live on big plots of land - the 13 million Americans with half an acre or more. But that could change fast in the likely event that the new Congress passes a bipartisan bill providing a tax credit equivalent to 30 percent of the cost of a wind user's turbine. (Some states already offer rebates.) Consumers can also sell their excess power to utilities such as Xcel Energy (Charts).
VCs are starting to get excited too. Peter Edwards, a partner at Altira Group, an investor in Southwest, sees opportunities for dealers, installers, and makers of efficient batteries that can hold excess wind energy for a couple of days. "In the world of the future," he says, "it will be just as easy to buy a wind turbine as an air-conditioning unit."
Where Wind Pays
States that offer rebates or tax credits: California, Massachusetts, New Jersey, New York, Ohio, Pennsylvania, Wisconsin
Countries where consumers collect cash or credit from the government for excess kilowatts: Canada, Germany, Spain
4. A Buddy List That's Always Talking
It's too early to tell which brand of user-generated content will be the Web 2.0 phenomenon of 2007, but placing an early bet on Twitter might be a good move. The free service, which combines the instant voyeurism of personal blogs with the brevity of text messages, appears to be catching fire, doubling its user base every month. It had 10,000 users by December and expects to hit 100,000 by April. Users post pithy updates on their lives (in no more than 160 characters) via the website, their IM clients, or their mobile devices. These posts can be sent just to their circle of friends or, if the user allows it, they can be added to Twitter's public time line. (A free desktop widget called Twidget also features the updates.)
Creator Jack Dorsey says the brevity of the posts is Twitter's greatest asset. "I feel a richer sense of connection with my friends when I can just peek into their lives," Dorsey says. "'I had two eggs and toast for breakfast' is enough of a glimpse." Dorsey and a fellow software engineer created Twitter in just two weeks last March. The service launched under the wing of parent company Obvious.com, the new venture of Blogger co-founder Evan Williams, who sold his blogging service to Google in 2003. Obvious.com builds quick and lightweight consumer-focused Web applications, throwing them out to the public and seeing which ones stick. "It's hard to explain why a product or application breaks out," Williams says. "But it doesn't take a lot of investment to know if you have something." If successful enough, he says, a product like Twitter can be spun off as its own company.
Not that Twitter is shy about monetizing its success. It's selling not only Web ads but also commercial accounts so corporate users can join in the conversation. Research firm eMarketer estimates that companies will spend upwards of $2 billion advertising on social networks alone by 2010. And Twitter's mobile component is appealing to phone companies, says Mark Donovan, a senior analyst for mobile research firm M: Metrics. The service is "a natural extension of what a phone does best," he says.
With nearly 75 million Americans now sending messages each month, texting has become an $11 billion market and it's growing fast. Gartner analysts expect 5 percent of all text messages sent, or $50 million worth of them, to ultimately relate to social networks like Twitter. Better watch Dorsey's pithy life updates very closely.
The Eureka Moment
Dorsey was writing software for couriers to let them send short status updates. He figured the same idea could work for people's personal lives.
5. A New Rx For the Body: Implantable Devices
In recent decades the job of discovering remedies for humankind's myriad ailments has fallen mostly to the $600 billion pharmaceutical industry. But as the drug pipeline has slowed to a trickle in recent years, and R&D costs have escalated, another branch of medical technology - implantable devices - is stepping up to grab a share of the market.
While Merck, Pfizer, and others will introduce relatively few new drugs this year, companies like Boston Scientific, Medtronic, and an array of startups are readying dozens of devices that reprogram the brain and other parts of the nervous system to tackle everything from migraines to severe depression. The FDA will consider about 20 devices for approval between now and June and a similar number in the second half of the year. "The potential for devices is astonishing," says Bijan Salehizadeh, a health-care partner with VC firm Highland Capital. "It's as vast as the scope of disease itself." Here's a look at where the current market stands, and where the even more promising market of tomorrow is headed.
On the Market Today ...
The Devices: Brain and nerve stimulators
What They Do: Send electrical currents deep into the brain or to specific nerves to control tremors, seizures, depression, Parkinson's, and pain.
Who Makes Them: Boston Scientific (Charts), Cyberonics, Medtronic (Charts), Neuropace, St. Jude Medical (Charts)
The Devices: Pacemakers, implantable cardioverter defibrillators (ICDs), stents
What They Do: Correct irregular heartbeat and rhythm, prevent artery blockages, and treat early-stage heart failure.
Who Makes Them: Boston Scientific, Conor Medsystems, Johnson & Johnson (Charts), Medtronic, St. Jude Medical
The Devices: Glucose monitors, sacral nerve stimulators
What They Do: The former provide continuous blood-sugar monitoring and/or insulin delivery for diabetes patients. The latter are becoming a popular treatment for urinary incontinence and overactive bladders.
Who Makes Them: Medtronic
... And Coming Soon
The Device: Bone-growing implant
What It Will Do: This protein-coated device will stimulate cells to regrow damaged or missing bone and provide a nonsurgical remedy for patients in need of spinal fusion or disk replacement.
Who's Developing It: Medtronic, Stryker
The Device: Electrical hunger suppressor
What It Will Do: Researchers are developing neurostimulators that will deliver jolts of electricity to specific stomach nerves. The intent is to make the brain think that the stomach is full, thus helping to control obesity, which has reached epidemic levels in the United States.
Who's Developing It: Leptos Biomedical, Medtronic
The Device: Remote-control insulin pump
What It Will Do: Allow booming numbers of diabetes patients, especially children, to have insulin and glucose levels managed remotely via data sent to a physician or parent. Controlling glucose levels is key to preventing life-threatening complications; it also saves insurers money.
Who's Developing It: Johnson & Johnson, Medtronic, Roche
The Devices: Next-generation brain stimulators
What They Will Do: Control obsessive compulsive disorder (OCD), help stroke patients regain motor function, treat migraine headaches, and treat severe drug-resistant depression by stimulating specific nerves with electrical impulses.
Who's Developing Them: Boston Scientific, Cyberonics, Medtronic, Northstar Neuroscience (Charts)
The Device: Remote-control defibrillator
What It Will Do: In addition to heart-pacing functions, it will transmit blood pressure data and monitor for conditions such as lung fluid buildup, allowing MDs to head off serious problems before they occur. Doctors will be able to view the data remotely via laptop, phone, or PDA.
Who's Developing It: Boston Scientific, Medtronic, St. Jude Medical
The Device: Migraine neutralizer
What It Will Do: New research has linked migraine headaches with the existence of a tiny congenital hole between the upper chambers of the heart. Scientists are testing new implants that, when inserted through a vein in the upper leg, will patch and seal the hole and alleviate migraines for some of the 28 million Americans who suffer from them. An added bonus: The implant may also reduce the risk of stroke.
Who's Developing It: AGA Medical, Boston Scientific, Cierra, NMT Medical (Charts), St. Jude Medical
6. Online Ads Find New Landscapes
Virtual mapping tools like Google Earth and Microsoft's Virtual Earth 3D are great for those who want to ogle their neighborhood - but they may soon turn out to be an even bigger boon for the advertising industry. This spring Saturn is looking to roll out a nationwide version of an online ad for its new Aura sedan built on Google Earth technology. Web users don't have to download the mapping software; they just watch as the screen zooms all the way down from space into the nearest Saturn dealership - located by their IP address - where a salesman offers them a test-drive.
A beta version of the ad, targeted at just six U.S. cities, received millions of click-throughs, according to Gokul Rajaram, product management director for Google AdSense. It also resulted in more than 1,000 requests for a test-drive - which prompted Saturn's ad agency, Goodby Silverstein & Partners, to start inventing campaigns for its other clients using Google Earth. "Every retail chain will eventually do this," says Jeff Goodby, co-founder of the San Francisco-based agency.
Microsoft (Charts) has already rolled out ads inside Virtual Earth 3D for major sponsors like Fox (Charts) and Nissan (Charts). Users will soon be able to zoom through virtual versions of real cities with billboards advertising local hotels, restaurants, or day trips. "Consumers who are using this are much more engaged with it than with a contextual ad they see while surfing the Internet," says Henry Hall, senior product manager for Virtual Earth 3D. "This is the wave of the ad future." Given Madison Avenue's crisis about engaging a younger, more tech-savvy audience, that wave can't come fast enough.
View this 3-D ad at saturn.com/videocampaign.
Susanna Hamner blogs about the ad world at Madison Avenue West.
7. A Google Built to Order
Pssst! Want a free search engine? Ask Google, which is set to triple its trade in custom search engines. The search giant will make a CSE for any company that wants one, using human editors to strip down the 8 billion pages in its index to fit criteria given by your company. Google built 100,000 CSEs in 2006, but it expects to have created more than 300,000 by April.
The attraction? If you type "business plan" on Google, you get 497 million results. But enter it on the CSE that Google created for JumpUp, a small-business website owned by Intuit, and you get a more manageable 200 results, selected with the help of Intuit and sorted by relevance. No one need know that the CSE comes from Google - all the company wants is a share of the revenue from its text ads. "We're giving our partners all the control," says Shashi Seth, Google's CSE product manager. "A lot of companies have tried to build their own search engine, but it's a pretty darn hard task to achieve."
8. Mom and Dad Have a Social Network Too
Until now, social-networking sites marketed themselves to business users (LinkedIn) or teens (MySpace and Facebook). But Cozi Central, a free online service founded by Microsoft veterans and making its first big marketing push in January, offers social networking for parents - with 50 million households as potential users by 2010, according to research analysts at the Diffusion Group. Cozi founders Robbie Cape and Jan Miksovsky (the pair behind Microsoft Money) figure the time is right for a digital command center that allows families to connect and share information the way MySpace users do.(MySpace's projected revenue this year: $350 million.) "Don't tell me there's this huge spread of technology throughout the home, and all I get is a better TV-watching, music-listening, and gaming experience," Cape says. "We saw this role for software applications for the entire family." Cozi's calendar function sends out e-mail and text messages reminding family members that it's time to, say, clean their rooms. It's going into competition with the fridge full of Post-Its, in other words, and Cozi says large advertisers are lining up to buy ads targeted to each family's activities. It's not a novel business model - but given the market size, it may be irresistible.
HOW THEY DID IT
Cozi's founders threw modern-day Tupperware parties in Seattle.
The parents who attended became beta testers and word-of-mouth marketers.
In the search for clean-burning alternatives to gas, many fuels have had their moment in the sun: ethanol, diesel, hydrogen. Now add to the list synthetic fuel, made from carbon-based products like natural gas and coal in a process that dates back to the 1920s. In December the Air Force successfully tested synthetic jet fuel in a B-52 bomber; it plans to test the fuel's cold-weather performance early this year.
That's a boon for Syntroleum, the Tulsa, Okla., company that manufactures the fuel. "The technology is ready," says Ken Agee, founder and CEO of the 22-year-old company. With the United States holding 27 percent of the world's coal reserves, he adds, "it's exciting to think we could control our energy destiny." Better yet, the fuel will work in any vehicle powered by a diesel engine without any retooling. And the price is right: Coal-to-liquid fuel should cost about $45 a barrel. A government tax credit would then kick back $21 a barrel to Syntroleum, making the fuel very competitive anytime oil prices are above $30 a barrel. Only one snag: scale. Agee says it would take at least $1 billion to build a plant capable of producing 10,000 barrels per day.
Why it matters: Syntroleum turns coal into liquid fuel that burns cleaner and more efficiently than gas. Any diesel vehicle can use it.
Estimated arrival: 2025
"Leave the driving to us" was a clever slogan for Greyhound buses - but Sebastian Thrun foresees a day when it'll work for the auto industry. The 39-year-old Stanford professor of electrical engineering is the world's most successful manufacturer of self-driving vehicles: He and his graduate students built Stanley, the first car to complete the DARPA Grand Challenge, a 131-mile robot car race across the desert near Las Vegas organized by the research arm of the Pentagon.
That historic success in 2005 netted Thrun a $2 million prize. He reinvested some of it in an even more intelligent Stanley, which will be unveiled at the next iteration of the robot car contest - one that takes place on city streets. Obstacles include stop signs, lights, and cars driven by humans.
Thrun is confident that Stanley is the Model T of self-driving cars. "It might take 20 years, but people said we would never fly massive numbers of people over the Atlantic," he says. "There's an enormous waste of productivity in commuter traffic. We could increase the capacity of highways with precision driving." That means the auto industry gets to sell us more cars, not to mention safer ones - there were 43,443 U.S. highway fatalities in 2005, and Thrun thinks self-driving vehicles, equipped with cameras and motion sensors and all networked with one another, could reduce that number by 50 percent. Not convinced? Take a look at the current crop of cars with increasingly automated functions. The 2007 Mercedes S-Class can tighten your seat belt and close windows if it senses an imminent accident. The 2007 Lexus LS 460 can virtually parallel-park itself at the press of a button, a trick borrowed from the Japanese version of the Toyota Prius (see "Drivers Optional"). Adaptive cruise control on the 2006 Acura RL senses when another vehicle is too close and applies pressure on the brakes to slow you down.
Such new models are removing the necessity for human control - which, some Detroit executives say, is what we want. "Say you're blazing up to a busy intersection, fumbling around with your BlackBerry, and the light turns red," says Mark Chernoby, vice president for engineering at DaimlerChrysler (Charts). "Your car could know, and either warn you to stop or stop for you." Lane changing is another repetitive task ripe for automation: Forward-looking radar devices and rear-vision cameras could make it a push-button process. As for the networking infrastructure, the FCC has already set aside a chunk of the wireless spectrum so cars can communicate with one another and be calibrated remotely.
Once the pieces are in place, the trucking industry would likely be the first beneficiary. Unmanned delivery vehicles could follow predetermined routes the way robotic vehicles already do inside a warehouse. Thrun and Chernoby say a fully automated highway is possible by 2025. If Stanley can successfully navigate those city streets this fall, we will be a step closer to stepping away from the steering wheel.
How the robot car works:
1. An array of light-detection and ranging lasers help build a 3-D image of the road.
2. Videocameras, gyroscopes, and accelerometers determine turns and navigate obstacles.
3. An onboard computer and AI software adjust speed and plot a route.
4. The emergency shutdown is activated remotely.

To send a letter to the editor about this story,
click here
.