(Business 2.0 Magazine) -- Joe Giordano and a buddy were hanging around the watercooler in a Silicon Valley office park back in the halcyon days of the Internet bubble, doing what buddies did around watercoolers back then - speculating enviously about how much jack friends who'd jumped to hot startups were raking in.
"Everyone seemed to be making gazillions of dollars and getting Ferraris, but no one would divulge details," recalls Giordano, who himself had just left Microsoft (Charts) and joined an e-commerce firm. "The lightbulb went on, and we thought, 'Wouldn't it be cool if you could use the Internet to anonymously post your salary and compare it with what others make?'"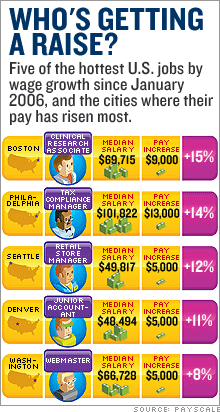 Thus was born PayScale, a Web-based pay comparison service. Though Giordano launched the business in 2000, the site took years to build and began to get serious traction only last year, thanks in part to the national jobs recovery and the Web 2.0-driven return of startup sensations, Google-size pay packages, and YouTube-like overnight fortunes.
Now PayScale is used by tens of thousands of job seekers, employees, and hiring managers every day - and Giordano himself may be in line for an enviable payday.
PayScale's mission is to bring transparency to one of the deepest secrets in the labor market: who earns what. Until now, analysts like Radford Surveys & Consulting have tried to penetrate the mystery by compiling salary surveys with vast spreadsheets of payroll data collected from large companies.
But the aggregated salary numbers they produce tend to be selective, static, and stale. PayScale, by contrast, is highly interactive: The site collects real-time pay data directly from workers and spits out an analysis showing what an occupation is worth - organized by a given city, industry, or company - with the speed of an online stock quote.
So far PayScale has collected the salaries of 5.5 million American workers, compared with the mere 1.2 million profiles that Radford, the clear leader among traditional compensation analysts, has in its U.S. database. PayScale entices people to cough up their confidential info with an incentive - free reports showing how they stack up against others doing similar work.
From PayScale's homepage, you click through about 10 screens of multiple-choice questions about your total compensation, employer, work experience, and schooling. If you're, say, a nurse with a degree from UCLA earning $28 an hour in an emergency room in Los Angeles, the site's instant report will show you're underpaid by about 15 percent.
Many users deploy those reports as a weapon in salary negotiations. "I used mine to get a 30 percent raise in April," says Ginni Trask, an office administrator in Prescott, Ariz.
PayScale's revenue comes from two sources. Individual job seekers or workers like Trask can pay $20 for a subscription that gives them enhanced access to the site for six months and deeper drill-downs of their salary reports. And PayScale now has 300 recruiters and human resources departments at large companies buying its data. Some pay $80 for a single report on a specific job opening, while larger companies like Costco (Charts), Dole, and EMC (Charts) pony up as much as $15,000 for a subscription that provides data for thousands of positions.
Kim Wortman, a human resources manager in a division of the Kroger (Charts) grocery chain that has 21,000 employees, began using PayScale last summer to assess whether her company was over- or underpaying its IT staff and tradespeople responsible for store maintenance.
PayScale's database indicated that Kroger's salary rates were right on the money. "We're thrilled with how fast and accurate their stuff is," Wortman says. "Way better than the old way of doing things."
One reason it took Giordano years to build the business was the complexity of PayScale's engineering; another was his decidedly penny-pinching approach.
He started with a test server in the basement of his Seattle home, while two co-founders pitched in from their home offices. Among the algorithms they developed was code that weeded out users who tried to game the system by inflating or lying about their pay.
Since Giordano had no marketing budget, he created a traffic-generating program. It data-mined the Bureau of Labor Statistics's occupational stats and seeded the PayScale site's "research center" with tens of thousands of pages of tables. The data was two years old, but the tables were loaded with popular job-related keywords that were crawled by search engines like Google (Charts).
PayScale's visitor numbers snowballed from fewer than 10,000 a month in 2002 to 1.2 million today. "We didn't have to announce or advertise it," Giordano says. "We just turned on my search engine tool."
By late 2005, PayScale had raised $10.6 million in VC funding and was staffing up to its current headcount of 50. Among the new hires was Mike Metzger, a friend of Giordano's from his Microsoft days, who came on as CEO in 2004.
PayScale only began selling subscriptions at the end of 2005 but has already reached $5 million in annual sales. Metzger says the company will be profitable early next year and claims that it will have double-digit margins because the cost of acquiring new worker profiles is near zero.
"Our only expense, really, is hosting, and that's not much," he boasts. For Giordano, who took the titles of chairman and VP for software development, his creation has solved a lot of those watercooler money mysteries. He recently entered his own employment data into the PayScale database. It said he was underpaid by 20 percent.
Paul Kaihla (pkaihla@business2.com) is a senior writer at Business 2.0. He blogs about economics and real estate at The Real Estate Economy.

To send a letter to the editor about this story,
click here
.