(Business 2.0 Magazine) -- What could you do with technology that turns all your employees' camera-enabled cell phones into networked videocams?
A company called Reality Mobile has already used it to help FBI agents patrol the Super Bowl. Now it's finding that the same idea could potentially do everything from oil-field analysis to YouTube-like video sharing.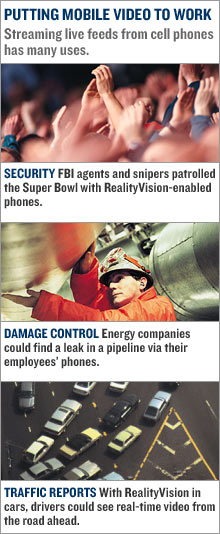 This fall the Virginia-based company will launch a fully customizable version of its software, RealityVision, which works with any Palm OS- or Windows-based wireless device with a built-in camera. "The phone thinks it's just capturing a video clip like normal," explains CEO Dave Rensin. "But we're really stealing that data."
Along with a video signal, the phones send their GPS coordinates, giving your headquarters as many roving eyes in the field as your employees have phones.
That's why Rensin has a long list of potential uses for the product. Reality Mobile has already been selling law enforcement on the $250,000 RealityVision system. (The LAPD beta-tested it.)
But it could work just as well for, say, an energy company that needs to quickly locate a leak in an oil field. Rensin is talking to auto companies that want to develop in-car camera systems that would broadcast live video to other cars in the vicinity, so drivers can see what traffic is like for miles ahead. A manufacturer of binoculars aims to make a RealityVision-equipped model that records and sends video.
And entertainment companies have suggested a video social network whose users could swap live clips of whatever they happen to be doing. "I can't tell you how many people say, 'This is going to be like YouTube for cell phones,'" Rensin says.
_________________________
More from the April 2007 issue of Business 2.0:
World's 11 coolest new products
Entrepreneur finds his 'suite' dreams
A social network for adults-only

To send a letter to the editor about this story,
click here
.