(Money Magazine) -- Stefanie Alley became a lobsterman the day her husband fell off his bicycle. It was a freak accident about 10 years ago: Rick's foot slipped off the pedal and was caught in the spokes, and he went flying over the handlebars, injuring his shoulder.
Since Stefanie and their two children depended on his fishing income, and hauling lobster traps is nearly impossible with one arm in a sling, she suddenly became captain of The Stefanie, the 37-foot lobster boat Rick had named after her.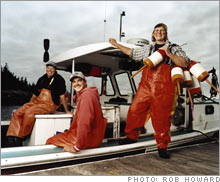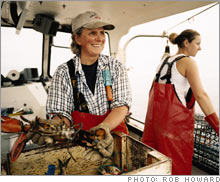 Stefanie had worked on Rick's boat as a deckhand (called a sternman in the business) many times in the waters off Little Cranberry Island, Maine, where the couple live. But piloting her own vessel was a much greater challenge.
She had to decide where to place the traps, what kind of bait to use and how to navigate the often treacherous wind and tides.
Fortunately, she loved it - so much so, in fact, that a few years later she bought her own boat and, at age 45, became the first female fishing captain in the history of their tiny island, located two miles off the coast of Mount Desert Island.
Today, Stefanie is 54, Rick is 56, and the Alleys enjoy a thriving family business that includes their son Jeremy, 27 (daughter Ashley, 22, attends college in Colorado).
Most days, from spring until fall, the three of them head out to sea at dawn, each in separate boats, and don't return until after three in the afternoon. Rick goes alone, but Stefanie and Jeremy each take along sternmen as helpers.
While summer tourists may regard it as romantic, lobstering is one tough business. The wire-mesh traps are heavy, ocean currents tricky, boat engines cranky and the behavior of lobsters unpredictable.
Fatalities occur more than twice as often in commercial fishing as in other industries - for lobstermen, ever-present dangers include getting tangled in loose lines on deck and being pulled overboard by their traps.
"It's not a nine-to-five job, that's for shu-ah," says Rick in his heavy down-East accent. Stefanie says she finds the work as draining mentally as it is physically. "When you're not doing it, you're thinking about it. When my traps are in the water, I'm constantly wondering how they're doing."
Financial challenges
The Alleys' way of life is one that has nearly disappeared from the modern American experience: The family's career success is determined not by their skill at winning over clients or placating their boss but by their ability to live in close harmony with nature.
Still, their financial challenges are familiar to any business owner or independent contractor whose income fluctuates with seasonal conditions or an unpredictable market.
The Alleys earn nearly all of their income between May and December, and those funds have to last the year.
The size and price of their catch varies while expenses (especially fuel and bait) are so high that their seemingly comfortable gross income of $120,000 last year was chopped in half by the costs of doing business.
Fortunately, Rick and Stefanie are extremely thrifty and are content with a simple life. You'll see no flat-screen TVs or designer clothes in the cozy two-bedroom house they bought for a pittance in the 1970s. They rarely eat out and can subsist for weeks at a time on the ducks Rick shoots, the bluefish and mackerel they catch and, of course, all the lobster they can eat.
Rick earns extra income from his paintings of nature and maritime scenes, while Stefanie offers lobster-boat tours to summer folk.
And yet there is no denying that after a long day of hauling traps, the Alleys are feeling more aches and pains than ever. They have no disability insurance, a tiny life insurance policy and only $126,000 set aside for retirement.
It's enough to make even tough lobster-men like the Alleys wonder whether resourcefulness and stoicism will suffice to see them through. "We save as best we can during the year," says Stefanie, "but the truth is, once that money is drained, we honestly don't know what the future will bring."