5 of 15
Boston Consulting Group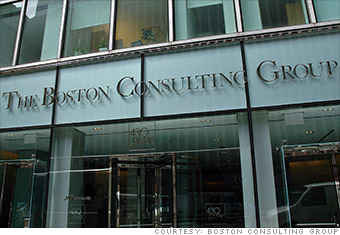 5
% of MBAs who want to work there
: 12.19%
Headquarters
: Boston, MA
What makes it great: The top-notch consulting firm tries to make sure MBAs achieve their career ambitions without sacrificing their personal lives.
BCG flags consultants who put in too many long weeks. It also checks in with case team members regularly to gauge how satisfied they are with their experience and work-life balance and their team's efficiency and effectiveness.
"It's a way for us to have visibility, make interventions and have conversations to make sure the overall experience is rewarding," says Lucy Brady, partner in charge of recruiting in North America.
What they're looking for: "We want people who want to solve tough problems," says Brady. "But you also have to be able to collaborate and be committed to a team, and have a track record of accomplishment."
BCG is celebrating its 50th anniversary this year, and business is booming. Its global consulting staff grew 11% last year to 6,200. The company doesn't disclose MBA hiring figures, but Brady says BCG is hosting its largest intern class ever this summer.

Get the complete lineup of ideal MBA employers, in an exclusive CNNMoney.com list.
Search All Jobs from Across the Web
Think of it as a popularity contest for companies: Every year research firm Universum USA ranks the most desirable employers in the world, based on where MBA candidates say they'd most like to work.
More