Like this job? Now Like CNNMoney on Facebook for career tips, plus the latest business news and features on Personal Finance, the Economy, Markets, Technology, and more.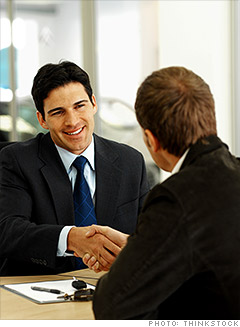 Median pay: $63,300
Top pay: $98,300
10-year job growth: 16.4%
Total jobs*: 400,000

What they do all day?
These door-to-door sales reps hit the pavement hard, building relationships with prospective customers and maintaining existing ones. They know the market intimately, keep track of the hottest products -- and keep track of their competitors' specs. Their salary is often commission-based so the harder they hustle, the more they earn.
--J.A.
Quality of life ratings
:
| | | | |
| --- | --- | --- | --- |
| Personal satisfaction | Low stress | Benefit to society | Flexibility |
| C | C | C | B |