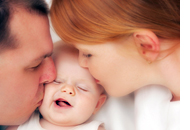 Starting and raising a family


You're combining lives and finances. Before you know it, there are others to support and educate. Relax; you've got plenty of time, and good advice if you read on.

Ka-ching! Wedding price tag nears $30K
Survey: Bridal spending tops $125 billion; parents less likely to foot ballooning bill.

Making sure your kids will live better
The American dream may be harder for kids today to achieve. Here are five ways to help them get started.

How to afford parenthood after 40
Just when you thought you could save...Baby furniture! Piano lessons! College! You need a plan.

Blended family, tangled finances
Two broods prepare to combine very different money styles.

Are prenups for you?
5 Tips: Deciding whether to say "I do" to a prenuptial agreement.