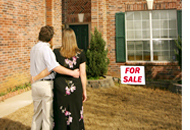 Buying a home


It takes lots of advance prep work to buy, but a house can be your most enjoyable and profitable investment. Here's how to get started and come out ahead of the process...

Buying your dream house
5 Tips: Buying in today's housing market

Reality check: Before you play landlord
There's more to owning property than collecting rentals. Here's some of the downside.

The three myths of condo investing
If you're just getting started investing in condos, don't be sucked in by these whoppers.

Tycoon in the making
Ted Theodoropoulos learned early how lucrative real estate investing can be.