NEW YORK (CNNfn) - It's a quiet day at the office, and your boss is out to lunch. So you decide to check out how the stock market is doing. Or maybe you just want to find out if Patrick Ewing will be back in the line-up for the Knicks tonight.
    It all seems innocent enough. But experts say employees who surf the Web from their office PCs are costing Corporate America more than $1 billion a year. And some companies are starting to crack down.
    Most workers don't like to think about it, but in the age of the Internet and advances in technology, chances are someone at work is watching where you spend your online time. And if these sites are unrelated to your business or violate your company's Internet policy, it could cost you your job.
    
---
Take CNNfn's poll on Web spying
---

    One manager at an East Coast Internet company who didn't want to be identified said he doesn't need monitoring software to notice a rise in work-time surfing.
    "You hear people talking about going online at work all the time, shopping from their cubicles," the manager said. "One guy was just telling me about the digital camera he bought on eBay (EBAY). He was checking his e-mail constantly to see if his bid was the highest to get the camera, and it doesn't stop there."
    "People book vacations, buy presents, you name it. At work they have the kind of bandwidth that they just can't get at home and can do things so much faster," said the manager.
    
---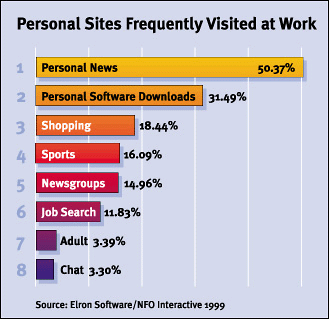 Source: Elron Software
    
---

    In response, many companies are on the offensive, using sophisticated tools that monitor Internet access by user, which shows exactly which sites workers are logging on to, and for how long.
    

Cyberslackers


    While the Web has greatly enabled workers to access information needed for the job, it has also enhanced loafers or "cyberslackers" in their quest to do little work while collecting a paycheck.
    Recently, Internet-related firings made headlines: 40 workers terminated at Stamford, Conn.-based Xerox (XRX). The New York Times canned 23 employees at its plant in Norfolk, Va. Among the offenses: workers were allegedly visiting pornographic sites and trading electronic porn pictures via e-mail.
    Xerox spokeswoman Christa Carone said that when the company's Internet abusers were fired, reaction from employees was positive.
    "Employees were even appreciative of the action we took against those workers," Carone said.
    Carone said the fired workers were 'extreme' cases, often spending as much as eight hours a day at porn and gambling sites. "We're talking about people who spent the majority of their day at these sites," Carone said.
    

Surfing steals money, bandwidth


    About $1.05 billion -- or 30 percent of the $3.5 billion corporations spend each year on Internet access -- is wasted on recreational surfing, according to Scotts Valley, Calif.-based SurfControl, a provider of products that allow corporations to keep tabs on where workers surf.
    And, according to figures compiled by Elron Software of Burlington, Mass., a company loses $2,883 each week, or $149,916 a year, if 50 workers spend just 3 hours on recreational surfing during work hours. The figure, compiled with the help of market research firm NFO Interactive of Greenwich, Conn., is based on the U.S. Department of Labor estimate of $19.22 an hour in employer costs for employee compensation.
    
---
---

    

Online shopping a popular activity for employees


    The San Diego-based Internet access management firm Websense, released a survey in October showing that online shopping grew almost 200 percent over the prior six months, while surfing on Internet porn sites slowed 48 percent within the same time frame.
    A survey conducted by the American Management Association during the week of Dec. 13-15, 1999, among 1,139 firms found almost 21 percent reported an increased use of Internet connections for private or personal transactions. Of the 66 percent of firms that track, record or review telecommunications activities, 46 percent admitted monitoring office Internet connections, 12 percent plan to and 40 percent said they had no plans to keep tabs on employee surfing.
    In addition, the survey said 64 percent of the companies had a formal, written policy regarding personal use of office Internet connections, and punishment for the private use of personal Net time was handed out by 35 percent of the surveyed firms. Of that figure, 11 percent terminated employees, 18 percent gave a formal reprimand and 17 percent issued an informal warning.
    Internet access management firms also report that companies fear sexual harassment charges from employees whose co-workers hang out on porn sites during the workday. Conduct perceived as creating a hostile working environment raises a red flag for human resources managers, and Web access software can tag the offenders and put them on notice or on the unemployment line.
    

Scoffing at surfing


    While management cringes at cyberslacking, some sites actually celebrate it. Witness the popularity of the year-old site IShouldBeWorking.com. It features a variety of content to amuse workers who would rather surf than work, such as jokes, cartoons, shopping, football pools, games and links to other sites. Site creator Michael Kelly, a Webmaster in Dorothy, N.J., said the site receives between 60,000 to 100,000 page views a month.
    

    The time-wasting portal even features an 'Uh-oh, it's your boss' panic button that users can hit if their supervisors get too close, which sends them to the business section of About.com (BOUT).
    "People tell me they use the panic button all the time," Kelly said proudly. "It's saved many people when they've had bosses coming up behind them."
    Although IShouldBeWorking proclaims that the site: "is dedicated to slackers, goof-offs, procrastinators, loafers, "long lunchers" and Web-addicted employees worldwide," it also offers the disclaimer:
    "This Web site is not intended to indulge poor work habits, nor does it support them. Our research shows a large number of people online during work hours for whatever reasons, so we decided to cater to this specific group by offering an easy and convenient method of stress relief through surfing the Internet in an efficient manner."
    And some experts see no harm in that. Dr. Laurence Stybel of the Boston executive search firm Stybel, Peabody & Associates believes workers, especially those in the high-tech industry, should be able to blow off steam by surfing the Internet -- as long as they get the job done.
    "I think this whole thing is overblown," Stybel said. "Yes, there should be some parameters concerning surfing porn sites, but companies need to give workers some slack, considering employees are now working longer hours. Companies can't make distinctions between work and non-work...who cares as long as they're productive."
    "Look at the most successful companies and you'll see that they blur the lines between work and play, the personal and the professional," Stybel said.
    

Memo to HR


    So what recourse do HR managers have? At the very least, recommends the experts, companies should have an Internet usage policy in place, outlining for employees what is and isn't acceptable to do on the Net.
    Elron Software advises firms to create policies that cover employee conduct on the Internet, especially relating to sexual harassment, intellectual property protection, privacy, misuse of company resources, confidentiality and information and data security.
    Internet policies can be geared toward your company's environment. For example, you might specify that it's acceptable for workers to use the Internet for personal reasons, such as shopping, during coffee breaks, lunch breaks and after hours. Or it might be all right for employees to surf news sites, as the information may relate to their job.
    After creating an Internet usage policy, Elron advises companies to promote it by distributing copies to each worker and then enforcing it by using Internet usage monitoring tools.
    Once employees are aware of such a policy, they usually cut back their personal usage and avoid controversial sites, according to Elron's Ivan O'Sullivan.
    "Once your usage policy informs employees what is OK and not OK and they are educated, you need to enforce it," O'Sullivan said.
    Xerox's Christa Carone agrees.
    "Employees have been very receptive to our policy," which has been in effect since 1997, said Carone. "Any time you hear of an employee not doing their job and others have to pick up the slack, it creates bad feelings."