NEW YORK (CNNfn) - Your elderly mother fell and broke her hip - for the second time. Now she needs your help around the clock: dressing, cooking, bathing. You've got responsibilities of your own and your time is limited. It's heartbreaking to imagine, but it may be time to place her into an assisted-living facility.
    And you'd like to avoid getting stuck with less than you bargained for - an inattentive staff, a lack of social activities or an excessive monthly bill. If you assess your mother's needs physically, medically, and socially, you can search for a home without getting a lemon.
    Ideally, you should take a few months to seek out a long-term care facility, but sometimes a sudden crisis, like the death of one parent or a medical emergency, dictates your timetable.
    Start with your state's long-term care ombudsman office. Paid staff and volunteers periodically visit assisted-living and nursing home facilities to investigate complaints. They also mediate disputes between facilities and residents and their families.
    Each state also has a survey agency that conducts periodic inspections and enforces Federal guidelines.
    

    When you're ready to visit a facility, show up unannounced a few times at different times of the day. That way you'll observe a different set of staff and activities, says Beverly Laubert, of the Ohio State Long-Term Care Ombudsman office.
    Some of the most common complaints Laubert's office receives involve inadequate care, lack of supervision, and inattentiveness to clients' personal hygiene.
    

White glove test


    Cleanliness is obviously a priority for a new home for your parent. But an appropriate place will have more than just clean floors and hairnets in the kitchen.
    Overall atmosphere and the attitude of the staff are critical, said Anne Werner, president of the Washington, D.C.-based United Seniors Health Cooperative.
    Werner doesn't have any hard and fast numbers, but she said that the less expensive facilities receive more complaints. However, the higher-end facilities tend to overcompensate by offering lavish living conditions but not much human interaction.
    "They give you hotel-like benefits you don't need -- handsome furnishings, fancy meals -- but they may not do much to stimulate your mental health," Werner said.
    So it's important to do thorough research to locate a place that's comfortable -- and safe -- for your parent.
    Observe the clients. Do they seem happy or are they sitting around bored? Werner notes that some homes have a "laissez-faire" attitude, leaving clients on their own with nothing to do.
    Hygiene. Are the clients' nails clean and trimmed? Are they wearing fresh clothes that are appropriate for the weather?
    Activities. Do they have something to do or is everyone sleeping in their chairs overmedicated?
    Age. If your mother is 65, she may not want to be surrounded by 85-year-olds. Look for a home that's caters to elders closer to her age, frame of mind and physical condition.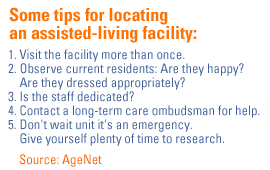 Now that you and your mother have chosen a community and she's settled in, you should be able to relax and let her enjoy her golden years. However, you may find surprises that weren't apparent during that initial tour.
    For example, the rate was $100 a day in the contract, but the monthly bill has a lot more zeros than you expected. Have you been scammed?
    Laubert says unexpected costs can creep into the bill when the facility adds on for incontinence supplies, boxes of gloves and other equipment. You can fight the costs if they weren't disclosed upfront, by filing a complaint with your state long-term care ombudsman.
    The bottom line is "elderly people can be taken advantage of," said Werner.
    So if after three months, you're still not happy with your living conditions, you should move out and get the bulk of your money back, Werner says.