NEW YORK (CNNfn) - IBM unveiled a new line of personal computers and Internet appliances that are designed to be small, sleek looking, and provide easy access to the Internet.
    The Armonk, New York-based computing giant is betting on this next generation of PCs and Internet appliances, which it calls the NetVista line, to revive the company's PC sales, a business where IBM has lost money and lagged behind more nimble competitors, such as Dell Computer.
    IBM (IBM: Research, Estimates) is investing more than $100 million in marketing and advertising campaigns to support NetVista. Because IBM suffered chronic losses when it sold PCs through retailers, the NetVista line will be sold directly through IBM and its business partners.
    "Their desktop business has been sagging, especially in the fourth quarter of last year," said Anne Bui, an analyst at International Data Corp. "The NetVista lines looks promising in bringing up their hardware revenue. The NetVista design is aimed at eliminating IBM's stodgy image."
    IBM is taking advantage of its relationships with business customers to market NetVista products. Part of the NetVista line consists of Internet access devices that companies will distribute to their customers. Those companies then will be able to provide their customers with customized, branded content and services delivered through the IBM device. For example, mutual fund giant Fidelity Investments will deliver customized content to its customers through a NetVista Internet appliance.
    IBM's new NetVista line will complement its Aptiva PCs, which are aimed at consumers, and its PC 300 line of commercial desktops. Big Blue is following the lead of Apple Computer by focusing on the external appearance of its machines and making Internet access simple.
    Apple scored a huge hit with consumers a year ago when it introduced its stylish iMac. The iMac, which comes in colors such as strawberry, tangerine, and lime, now sells about 700,000 units per quarter.
    IBM's NetVista line was designed by Richard Sapper, an industrial designer whose work appears in the Museum of Modern Art in New York. NetVista machines have matte-black designs, flat-panel screens, and appear to have just a screen and a keyboard, with no central processing unit. The central processing unit and CD-ROM drive in NetVista PCs is hidden behind the flat panel monitor.
    "NetVista devices are easier to use, slimmer, and will give our customers faster access to the Internet, enhanced connectivity and deadbolt security," said David Thomas, senior vice president, IBM Personal Systems.
    The NetVista machines, which will be available in April, run on Intel Corp.'s Celeron and Pentium III processors. NetVista is subdivided into four product lines: the All-in-One, the Legacy-Free, the Thin Client, and the Internet Appliance. IBM has not yet announced pricing for the new machines, but the All-in-One is expected to sell for less than $2,000, the Legacy-Free for less than $1,000, and the Thin Client for less than $1,900.
    

NetVista All-in-One


    The All-in-One PC is 75 percent smaller than the typical home or office PC, measuring 16 inches by 16 inches by 10 inches. It has a wireless LAN option, which means it can be attached to a local network without cables. The All-in-One also has an embedded security chip that makes it harder to "hack" into from outside a network. IBM says it is the only company to offer an embedded security chip on its PCs.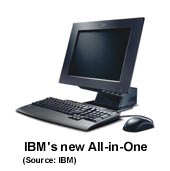 The Legacy-Free is a stripped-down PC with a vertical, space-saving design. It includes a docking cradle for synchronization with IBM's WorkPad handheld device. Future versions of the Legacy-Free may be able to dock with a Palm Pilot, the most popular type of handheld computing device, IBM said.
    The NetVista Zero Footprint Thin Client is a network access device with limited amounts of processing power. It is targeted for bank tellers, airline check-in staff, customer service representatives, and others who do repetitive data access tasks on a network.
    Companies in data-intensive industries, such as finance and health care, are expected to offer the NetVista Internet Appliance to their customers as an Internet-access device. It can be customized with vendor branding, on-screen branding, and Web-site links.