NEW YORK (CNNfn) - In a stinging rebuke, a federal judge Monday ruled Microsoft Corp. violated the nation's antitrust laws by using its monopoly power in personal computer operating systems to stifle competition.
    "Microsoft's anticompetitive actions trammeled the competitive process through which the computer software industry generally stimulates innovation and conduces the optimum benefit of consumers," U.S. District Judge Thomas Penfield Jackson wrote in a scathing, 50-page opinion released late Monday afternoon.

    Characterizing Microsoft's behavior as predatory, Jackson said the software giant "paid vast sums of money, and renounced many millions more in lost revenue every year" to enhance its share of the Internet browser market at the expense of its competitors.
    Jackson said Microsoft "maintained its monopoly power by anticompetitive means and attempted to monopolize the Web browser market," which violates the Sherman Antitrust Act, a key tenet of American business that was used to break up the powerful Standard Oil Co. in 1911.

    Microsoft also violated the Sherman Act by "unlawfully tying its Web browser to its operating system," the judge wrote.
    However, Jackson did not agree with the government's allegations that Microsoft's marketing arrangements with other companies constituted unlawful exclusive dealing under the law.
    The decision, while expected, was a setback for Microsoft, which had hoped to reach an out-of-court settlement with the government. However, when those talks broke down over the weekend, Judge Jackson decided to release his so-called "conclusions of law."
    

Click here to read the full text of Judge Jackson's opinion


    Justice Department antitrust chief Joel Klein called the decision a victory for consumers.
    "The Court concluded that Microsoft violated the antitrust laws by abusing its monopoly power and attempting to monopolize the internet browser market," Klein said in a press conference Monday.  "This sets the ground rules for enforcement in the information age."
    

A strong case on appeal ...


    Microsoft has vowed to appeal the decision.
    
"While we did everything we could to settle this case, and will continue to look for new opportunities to resolve it without further litigation, we believe we have a strong case on appeal." Microsoft chairman Bill Gates said in a press conference Monday evening. [566K WAV or 566K AIFF]
    "The appeals court already has affirmed Microsoft's right to build Internet capabilities into the Windows operating system to benefit consumers,"  Gates said.
    James Barksdale, the former chief executive of Netscape Communications Corp., which was the catalyst for the government's lawsuit, told CNN in an exclusive interview Monday that Microsoft should be broken up into smaller companies, similar to the way the government broke up long distance giant AT&T.
    "It would be a boon for shareholders," he said. "Multiple companies competing would create more value than one monolithic company."  [483K WAV or 483K AIFF]
    Gates said that the ruling will not impede the company's ability to move its business forward.
    "As we look ahead to the appeals process, innovation will continue to be the No. 1 priority at Microsoft," Gates said.
    It was generally expected that Jackson would rule against Microsoft, based on the harsh "findings of fact" in the case, which he handed down last November.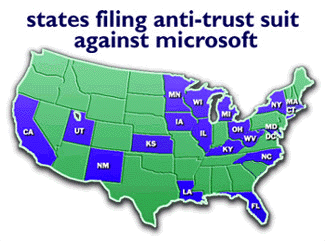 In those findings, Jackson said Microsoft repeatedly engaged in anti-competitive behavior by taking advantage of its monopoly power. The charges were made in a lawsuit filed against the company by the government and 19 states in May 1998.
    Monday's verdict came less than 48 hours after Richard Posner, a Chicago-based U.S. Appeals Court judge who was appointed as a mediator in the case, called an end to settlement talks, saying that the differences between the two sides "were too deep-seated to be bridged."
    Now that Jackson has handed down his verdict, the case moves into the remedy phase, during which he is expected to hear more testimony in order to decide what action should be taken against Microsoft to prevent it from abusing its monopoly power in the future.
    The negotiations between Microsoft and the government centered on remedies, and the mediator overseeing them has said that there were 20 different scenarios put on the table during the discussions.
    Among the possible remedies that Jackson will consider are imposing fines on Microsoft, restricting its conduct in the marketplace, and in the most extreme case, breaking up the company.
    Klein did not provide any specifics regarding the remedy the Justice Department will seek, saying only that the government is interested in "putting an end to Microsoft's widespread and abusive monopoly power" and opening up competition in the Web browser market.
    

Stock is bloodied but unbowed


    Microsoft shares took a beating in Nasdaq trade Monday ahead of the verdict, ending the session at 90-7/8, down 15-3/8, or 14.5 percent, on the day. However, Microsoft's stock had been trading at around that level just one month ago, and shares were boosted to nearly $112 per share in anticipation that a settlement was near.

    The stock's losses Monday, which wiped out roughly $80 billion in market capitalization, were the biggest since October 1997, when shares dropped 30 percent. For his part, Gates, one of the company's largest shareholders, lost roughly $11 billion in Monday's sell-off.
    In after hours-trading Monday, Microsoft shares edged up 1-7/8 to 92-3/4.
    
---
Click here for an after-hours quote
---

    Wall Street analysts expressed mixed opinions about the company's stock price moving ahead. Three analysts reiterated "buy" ratings on the stock, and at least one Wall Street brokerage cut its rating on Microsoft stock, saying the company may be in for months of legal turmoil.
    Others pointed out that Microsoft's business is still healthy, and the appeals process could drag out into 2002.
    "The fundamentals of the company are still very strong," Michael Kwantinetz, senior research analyst at CS First Boston, said in an interview on CNNfn's Street Sweep program Monday.
    "With several new products in the pipeline for the second half of the year as well as an expected acceleration of sales of its Windows 2000 operating system, the recent dip in the stock price could represent a good opportunity for investors to buy," Kwantinetz said. "Playing this negative news in front of very strong fundamentals is a good thing."
    SG Cowen maintained a "strong buy" on the stock, saying that the appeals process could last "many quarters."
    Morgan Stanley Dean Witter's influential technology analyst, Mary Meeker, maintained her "outperform" rating on the company's shares. "We believe Microsoft's business is solid, not blow-away," she wrote. "At the margin, we remain a holder of Microsoft shares, not an aggressive buyer."
     Warburg Dillon Read maintained its long-term "buy" rating and 12- to 18-month price target of $130 per share. "The stock has run up about 10 or 15 points in the last two weeks on speculation that there's going to be a settlement," analyst Andrew Roskill said. "I think it's natural that they would give that back."
    "I'm saying basically to hold the stock, don't panic -- it got ahead of itself -- and wait," Roskill added.
    PaineWebber also maintained its "buy" rating. A.G. Edwards has an "accumulate" rating, while Prudential Securities maintains a "strong buy" on the stock.
    

Follow-on suits imminent


    Other market observers pointed to the increased likelihood of follow-on lawsuits in the wake of the judge's verdict, which could drag Microsoft shares down even further.
    Early Monday, CIBC World Markets downgraded the stock to a "hold" from "buy."
    "We regard Microsoft's loss to be a foregone conclusion, which subjects it to damages that will likely be undetermined for a period of months," analyst Melissa Eisenstat wrote in a research report. "We also believe the issuing of the conclusions of law opens Microsoft to a flood of civil lawsuits seeking monetary damages."
    "We have over 100 civil actions already filed," said Goldman Sachs analyst Rick Sherlund. "There's concern that this gives them some leverage going forward."
    "The stock had been at about this level just a month ago, and I think this is going to continue to be a damper, at least for the next three months or so," Sherlund said. "The news doesn't look like it's going to be good for a while."
    Some observers on Monday said that Microsoft may try to get the appeal process moving before Jackson makes a decision on remedies.
    "Their chances on appeal are certainly greater than in front of Judge Jackson," said Harvey Saferstein, an antitrust attorney with Fried, Frank, Harris in San Francisco.
    "The wild card is how the Supreme Court will treat them," Saferstein added.
    

A long-running dispute


    The Justice Department's case against Microsoft surrounds allegations that the company attempted to use its market monopoly through its Windows software - used in more than 80 percent of all personal computers - to try to dominate the Internet browser market.
    In an October 1997 lawsuit, government officials said Microsoft integrated its Web browser, Internet Explorer, with the Windows 95 software program in an attempt to grab market share from rival Netscape Communications Corp. Netscape later was sold to America Online (AOL: Research, Estimates) which in a separate deal is merging with Time Warner Inc. (TWX: Research, Estimates), the parent of CNN and CNNfn.
    After months of negotiations between Microsoft and the government broke down, regulators from the Justice Department and 19 states launched the antitrust suit in May 1998, accusing the company of trying to drive competitors out of business.
    The case went to trial in October 1998. It included testimony by Netscape's CEO that Microsoft threatened to "destroy Netscape's business" unless the company agreed to concede the Windows browser market and documents introduced by Justice Department attorneys to contradict Microsoft chairman Bill Gates' statements in a videotaped deposition that he was not aware of a controversial 1995 meeting with Netscape executives.
    Jackson issued his finding of fact ruling in November 1999. A few weeks later, he appointed Posner to serve as mediator to handle negotiations between Microsoft and the government. Sources close to the case said last month that Microsoft made an offer to settle the case, but the mediation efforts broke down over the weekend after four months of talks.